Welcome to our autumn newsletter which coincides with Baby Loss Awareness Week (BLAW) this year, 9th-15th October. Hopefully many of you are already aware of the candles that we have for our Facebook profile pictures and will join me in changing your profile picture for all or some of the week to raise awareness of Baby Loss and specifically Twin and Triplet loss.
Here are the photos for you to use.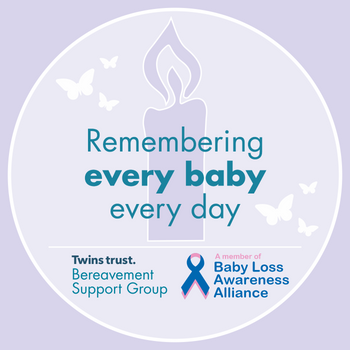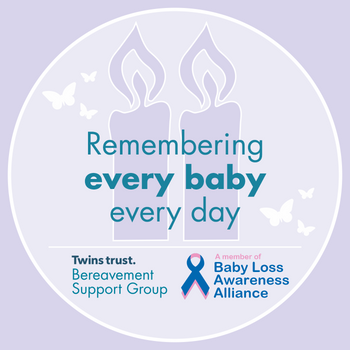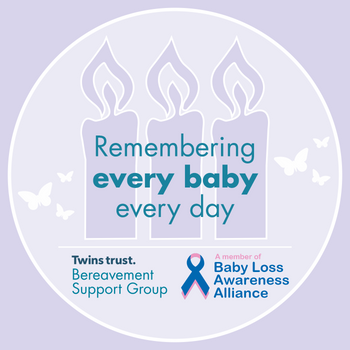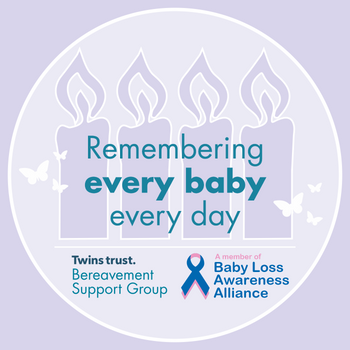 The theme for BLAW 2020 is Overcoming Isolation.
"This year we are highlighting the isolation many people experience after pregnancy and baby loss – women, partners, other family members and friends.
The effect of social distancing from Covid-19 has had a major impact on access to care and support and has complicated grief and responses to pregnancy and baby loss.
Since the start of the coronavirus pandemic, feelings of isolation have become more widespread around the world and many people have begun to talk more openly about loneliness.
Now more than ever, we can all come together to let those affected by pregnancy and baby loss know they are not alone and that we are all here to support them.
So, this year, we invite everyone to come together, share their experiences and show their support for those who have experienced the loss of a baby – whether or not they have been directly affected themselves."
The Wave of Light takes place at 7pm on October 15th and we hope you will join with us to light a candle in memory of our babies. You can share your photos in our Facebook group if you would like to.
We have a new BSG Twitter account which you can find here. It would be great if you could help share and follow us, especially during Baby Loss Awareness Week.
- Sharon
The Twins Trust BSG exists to support all parents and carers who have lost from a multiple birth whether it is during or after pregnancy. We are sorry for your loss and hope that you will find some comfort in the newsletter. If you would like your personal story to be included in a future edition of the newsletter please get in contact: [email protected].
Poems
Our Daddy
Our daddy is the best
He loves us both so much
We loved his kind, soft voice
And his gentle touch
He used to tell us stories
As we lay upon his chest
He let us hold his finger
And tucked us in our nest
We are his warrior boys
Beautiful children of god
Twinnies and best friends
Two peas in a pod
Our daddy makes us proud
We live within his heart
We love him to the moon and back
And never will we part
Written by Jess, in memory of James and Rudy
The Stars
Two lights went out on Earth for us, the day we said goodbye, and on that day two stars were born.
The brightest stars in the sky reaching through the darkness with their rays of purest white, lighting up the heavens as they once lit up our life.
With beams of love to heal, our broken hearts you left behind where always in our memory, your lovely stars will shine.
Alula and Seren, Mummy and Daddy Love You Forever.
A poem shared by Satty and Charlotte for their twin girls
Personal stories
Charlie and Joshua's 21st birthday
Sharon Darke
What a year so far – who would have known that Lockdown would be a thing? We always try to celebrate Charlie and Joshua's birthday and this one was no exception. So, what do you plan on a 21st birthday of your twins that are not here, in the middle of a pandemic, when you are still being really careful and your two other children are getting ready to go/return to university?
Dominic and I decided to go to the cemetery on Saturday evening so that the flowers would be there for the whole of their birthday.
I had three friends join me for a socially distanced 21-mile run – Rose, Clare and Natalie. We started bright and early, meeting at 8am in my garden. It was a really relaxed and enjoyable run and I loved every minute of it.
Dominic had thoughtfully prepared a finish line as well as some very welcome cans of coke and some snacks. I also achieved my target of raising a little bit of money for Twins Trust.
I am never very hungry after running long distances, but I did enjoy our family BBQ afterwards. I was able to catch up with all of the messages that I had received all morning. We opened a few cards and gifts. We had my mum and dad around in the garden for some birthday cake. It was a lovely afternoon in the sunshine.
Dominic and I then went to Jess' university house to help her take the last few bits and unpack. We finished the day once we were home, by lighting some candles.
It was a busy day, but we added to our memories and had lots of opportunities to think and talk about the twins, which is just how I like it.
I have been overwhelmed with all of the birthday messages that I have had over the past few days. Thank you so much, they mean a lot.
Petals counselling service
Jess
Petals charity has been really helpful for me. I had been finding it difficult to find some counselling which would work for me, having lost my two babies in different circumstances, and wasn't finding the other charity helplines were enough.
When a friend mentioned Petals to me, I called, and within a few days I had some sessions set up. My first session started just a week or two after the initial phone call.
My counsellor is brilliant; she has a great understanding of NICU and baby/infant loss. She doesn't try and make me 'better,' but instead helps me to understand and work with my thoughts, feelings and behaviours. She has been supportive with me going back to work and is going to support and provide evidence for any time off if I need it. And it's free. They are Zoom sessions at the moment which works for me as the charity operates quite a distance from where I live. They are hoping to continue Zoom support.
Fundraising
Walk 10K for TTTS
Thank you
You smashed it! On 8th August more than 100 of you took part in our first virtual event and raised an astonishing £47,000, almost covering the full cost of running the new Twins Trust Centre for Research and Clinical Excellence for one year, thank you!
The day of the walk was one of the hottest days of the year. Some of you had to postpone, but many of you braved it and had a great day. We've been overwhelmed by your help and support and can't thank you enough. Thank you for your fantastic pictures, for the Wall of Heroes on the main Twins Trust website. Please scroll down to see a 'mini' BSG Wall of Heroes, below.
Sarah, Satty and Charlotte shared with us why it was important for them to take part – you can read their stories below.
Next year we want to make the event even bigger, do make sure you're part of it. Register your interest now by emailing Lucie at [email protected].
Sarah Reed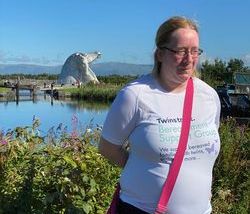 I decided to do the 10K walk on the 8th August in honour of my twin boy Mach Bryson who died at 25+4 weeks into my pregnancy, it was so unexpected as the pregnancy was going great. The doctors and everyone decided I needed to continue my pregnancy with both of my boys but my body didn't like it and decided to go into premature labour at 29+4 weeks. Both boys were born on the 28th September 2017. They were both perfect. Mach was perfect in every way.
I decided to raise some money as Twins Trust bereavement group has been amazing to me, putting me in touch with a befriender who I know is just a text message away if I just need a chat. Also the people/friends on the Facebook page are great, hearing all the similar stories and how we are not alone in how we are feeling and how we shouldn't be ashamed to talk about our angels. I have found a light at the end of the tunnel since joining, knowing that me and Steven aren't alone.
The money we have raised is going to a great cause and the Twins Trust deserve every penny. I am looking forward to my next challenge to raise money in honour of my boy Mach Bryson.
#neverforgottenalwaysloved
Satty and Charlotte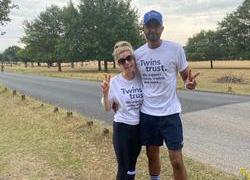 We raised £1,348.00 for the Twins Trust 10K Walk around Richmond Park which we did with a few friends and the day after the service. It's created a memory for us which we will look back on fondly and individuals that have donated and supported bereaved parents like us is warming.
It was a very, very hot day but we were well prepared and the scene of Richmond Park with deers, landscape, nature and the atmosphere is lovely to walk.
BSG Wall of Heroes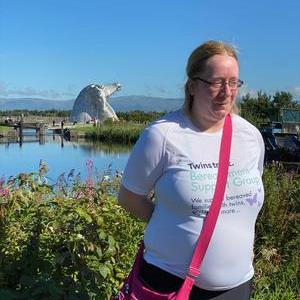 Sarah Reed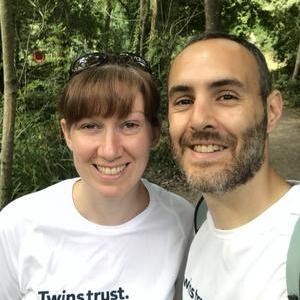 Lucy & Rob Patch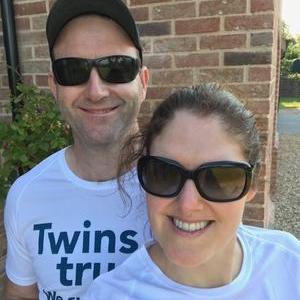 Joanne & Greg Ascough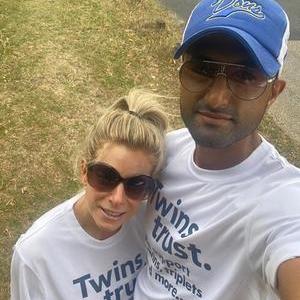 Satty & Charlotte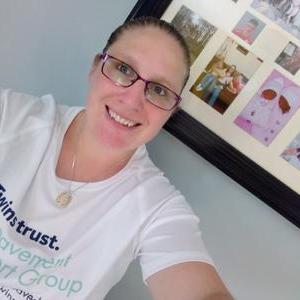 Maxine Barber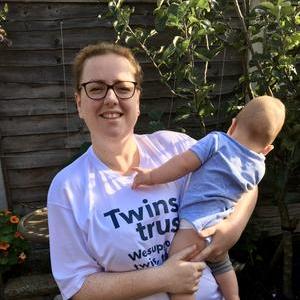 Clare Wood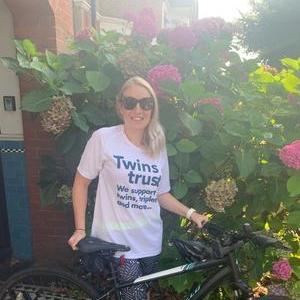 Kim Coussins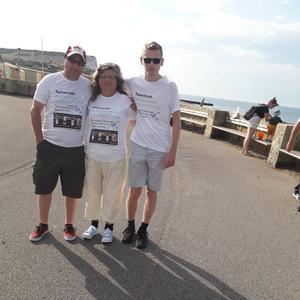 Sue Madel & family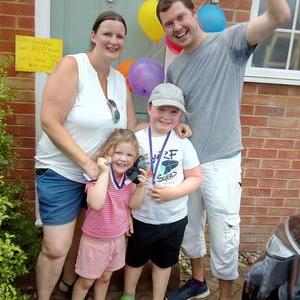 Peter Bensted & family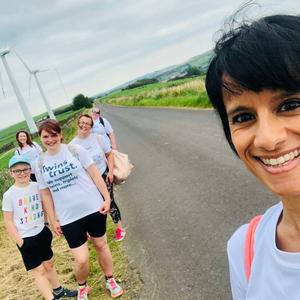 Natalie Dimelow & friends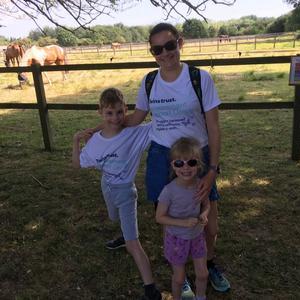 Laura Dimelow & family
Challenge events
Challenge events are currently on hold and sadly we don't know how long for. Next year, you could be fundraising for Twins Trust, in the British 10K in London, the Great North Run in Newcastle, cycle 100 miles in the Prudential Ride across London and Surrey or walk with us up to Ben Nevis on 12 August 2021, at night – it'll be a great adventure. Why not set yourself a goal and register now?
The ballot for the Virgin London Marathon 2021 opened this week. The deadline for applications is 5pm on Friday 9th October 2020. If you decide to apply and are successful in the ballot, we'd love you to run for Twins Trust. You could raise money for the Bereavement Support Group or the Twins Trust Research Centre.
You can enter the ballot for next year's Virgin London Marathon here:
lmereg.co.uk/ballot/select_competition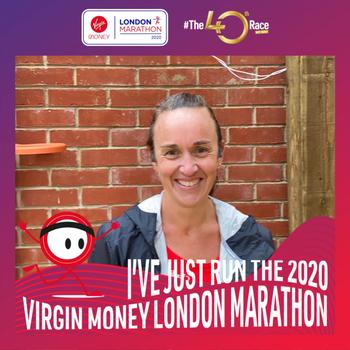 Sign up here to receive the BSG newsletter by email four times a year.
If you've subscribed to the newsletter and wish to unsubscribe, you can do so via the link near the bottom of your email.