Welcome to the summer edition of the newsletter
The Twins Trust BSG exists to support all parents and carers whose twins, triplets or more have died, whether it is during or after pregnancy. We are sorry for your loss and hope that you will find some comfort in the newsletter. If you would like your personal experience, poem or fundraising story to be included in a future edition of the newsletter please get in contact: [email protected].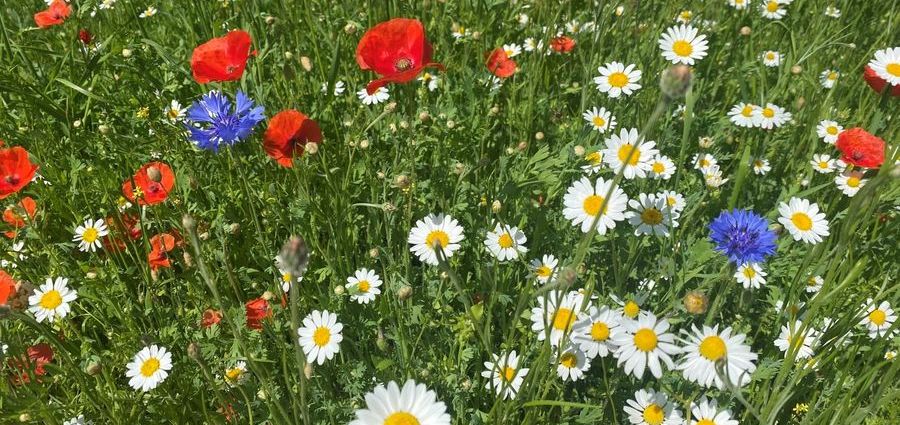 I hope that reading our newsletter gives you some comfort if you have experienced the death of a twin, triplet or more, or gives you some information about the support we offer, if you support bereaved families.
Please get in contact if you would like to know more about our support or if you would like to be put in touch with a befriender. We have mums, dads and a granny befriender with many different experiences between them. You can request a befriender here.
Our Facebook group is a private group and you can request to join here. It offers a safe space for parents to talk to someone who has sadly been through a similar experience. Your posts to the group do not show up in your timeline, so only group members can see them. This is a very supportive community which you may find helpful to be part of.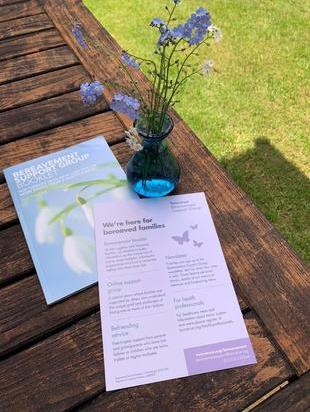 We have a Twitter account which we update daily that you might also like to follow: @twinstrustbsg.
Our booklet is in the process of being updated but you can download a copy here. It contains information on coping with loss, supporting a bereaved parent, caring for a surviving baby and personal stories.
You may like to do some fundraising for us. I have found fundraising in my twins' memory a really helpful thing to do. We have some ideas on our website of ways you could help raise a few pounds for our group.
Please get in touch if I can help in any way at all, via [email protected].
~ Sharon
Sharon Darke
Bereavement Support Group Coordinator

Poems
A poem from James – 21 months old and loved bumblebees
I lived my life inside you
Cocooned in all your love
So mummy, daddy, please don't cry I'm still with you, just up above.
I felt your every heartbeat
It's my sweetest melody
And for every heavenly bedtime the Angels play it back to me.
I know how much that I am wanted
I feel so very blessed
Of all the mummies and daddies in all the world
I got the very best!
You think of me in all your waking hours,
And on those sleepless nights
Just look out the window and you'll find me
The brightest star, the most dazzling light.
I'm that little breeze in the summer
I'm the birds singing in the trees,
I'm the rainbow in the sky
So that you remember we are always together.
I know how much It hurt your soul when we had to say goodbye
But I'm not gone, I'm always here with you and my brother.
I'm your sweet little bumblebee.
The Rose Beyond the Wall
A rose once grew
Where all could see,
Sheltered beside
A garden wall,
And as the days passed
Swiftly by,
It spread its branches,
Straight and tall…
One day, a beam of light
Shone through
A crevice that had
Opened wide ~
The rose bent gently
Toward its warmth
Then passed beyond
To the other side…
Now, you who deeply
Feel its loss,
Be comforted ~ the rose blooms there ~
Its beauty even greater now,
Nurtured by
God's own loving care.

Bereavement Support Group Community Run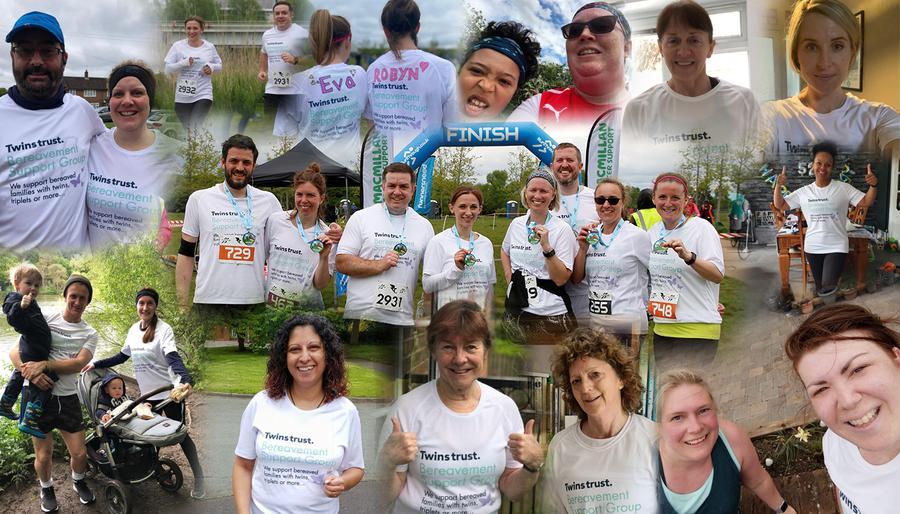 On Saturday 22nd May a team of 27 BSG group members and Twins Trust staff ran 5K or 10K to raise funds for our group. Eight of us travelled to Olympic Park, London to take part at the event and the others completed the run virtually.
Our WhatsApp group was a hive of activity from around 6.30am when Lucy set off. We shared photos, good luck and well done messages all day, congratulating each other on our achievements.
We ran in memory of all of our Twins Trust babies and have raised around £8,000 so far with Gift Aid, and it's still going up! This will make so much difference to our bereavement group and help us to continue to provide support to our bereaved families. One of the first things we are spending some of the money on are the Certificates of Birth, and we also have some Befriender training planned in June. We are also planning to get another Memorial Day organised for next year.
A big well done to everyone who took part – you were all amazing, and a huge thank you to all of you who have donated.
We are planning for this to become an annual event and hope that even more of you can join us next year.
Running for Charlie and Joshua
Sharon Darke
After running virtually last year for our first bereavement group run, I was super excited to find out that we could take part in an actual event.
My last run event was 1st March 2020, also in London coincidently. I was feeling a little apprehensive though, beforehand, due to a calf injury and having not really run for around six weeks beforehand. I was also so excited to meet up with the other members of our team that were running at Olympic Park.
We decided to stay at a hotel last minute, after realising we would need to leave around 5:30am otherwise. That was also exciting having not been anywhere at all last year!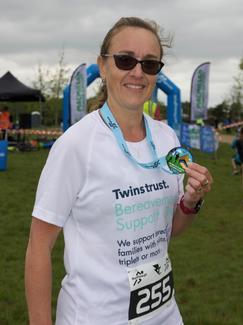 The run was organised brilliantly by Run Through and it felt very Covid-secure and safe.
It was a beautiful park to run through with great support and all the more special running for Charlie and Joshua and all of our bereavement group.
I had initially predicted 48 minutes when I entered so I was really pleased with my time of 49:48 with no training and an injury. The support from my team mates definitely helped on the last two laps…
Unfortunately my leg is sore again now so I think it will be a little longer before I am back running properly but I am just glad that I managed to do the run without making it any worse. Back to the exercises!
Running for Samantha
Michele Romain
I entered this race I think in January because I had taken up running during lockdown to keep fit as I couldn't train in the pool. I wanted to give something back to this charity, who had helped me 21 years ago when I had my triplet girls and sadly, our daughter Samantha was stillborn.
Once I knew I was actually doing this, I made sure I ran every week, starting at 5K, then upping it each week, till the last few weeks I have been practising the 10K. Then I added a 5K in the middle of the week to help me. I also made sure I was eating healthily.
The run itself, after a busy week at work, was tough going but I pushed on and did it.
I am so proud of this achievement.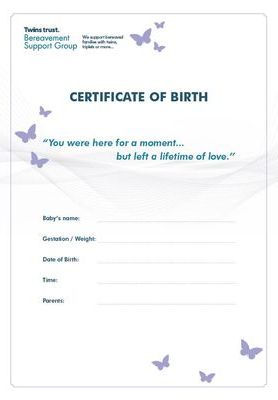 Certificates of birth
We have designed a variety of Twins Trust Certificates of Birth that you can download. Currently if your baby is born before 24 weeks and shows no sign of life you will be unable to register your baby.
We hope that our certificates will provide you with some comfort and give you a precious keepsake of your baby or babies. You can choose which of our certificates you prefer and include all of your multiples if you would like to.
Birth after loss
Claudia Matthews – Labour of Love Hypnobirthing
After losing my beautiful, perfect identical twin boys Hugo and Archie due to pre-term labour at 22 weeks 4 days, the
Twins Trust Facebook Group
was a safe place for me to feel less alone on my journey of grief and made me realise that everything I was feeling was completely normal after everything I had been through. The support of other parents on a journey of loss is so invaluable in those early days of grief. The support and advice from Sharon and Helen, as well as the newsletter, helped me to get through some difficult days.

My journey
I'm Claudia, the founder of Labour of Love Hypnobirthing – my absolute passion in life! I'm a very spiritual person and believe that things happen for a reason, especially my Mama journey, which has led me to do something I love so much – I've finally found my 'calling'!
Since 2013 I've had seven pregnancies and lost six babies through pre-term labour and recurrent miscarriage. It's coming up to three years since my last miscarriage.
So, I'm a Mama to six angel babies – Hugo and Archie (my beautiful identical twin boys), Albie and three little ones I didn't get to meet. My baby loss journey is why I do what I do, especially supporting those who've had a difficult and traumatic journey to be able to relax into their Mama and Papa journey.
I feel so blessed to now have Maddox and Marnie but my Mama journey has been a complete rollercoaster of highs, lows and all the extreme emotions you could imagine.
In my darkest days of raw grief I felt as though I was drowning in grief, I was in such pain mentally and physically. I felt broken, just in constant agony and went from feeling numb, shocked and in pure disbelief about what had happened to me, to feeling guilt and shame, as though I was to blame. I was exhausted, anxious and normally a really confident person but felt lost and scared with a complete lack of self worth and confidence. I also felt angry that others could carry on as normal with their life and I felt stuck – my life stood still.
When people around me were announcing pregnancies and babies, I'd be wondering why this was happening to me and not them. This made me feel like such a horrible person, it just wasn't like me at all but I couldn't help feeling that way.
Whether your loss was a long time ago or recent, triggers are all around us and it's so hard to see a way through. I can manage these emotions and feelings when I'm re-triggered because I've had support and counseling, and have learnt how to process things.
You do become a 'different you' as you try to learn to live with your loss and although the pain of losing does get easier over time, you carry this with you forever.
I will always wonder what my babies would look like and who they'd be today.
Pregnancy and birth after loss
After losing my twins Hugo and Archie at 22 weeks 4 days, just after they were born I was completely traumatised. It left me with huge anxiety and fear around becoming pregnant again and giving birth, even though I desperately wanted another baby – I was so frightened.
So, when I got pregnant again I knew I needed extra support. I was so happy to be pregnant but at the same time so worried and frightened about the same thing happening again, my body letting me down – I dreaded every scan, test, appointment etc.
My husband and I both felt that we couldn't feel happy or excited; we couldn't announce our pregnancy in case something happened. I felt cheated, like I'd never be able to enjoy this journey after my loss.
I had bereavement counseling, acupuncture, did some spiritual healing and worked through a lot.
Luckily I was recommended to Hypnobirthing and it really helped us as a couple to start to relaxing into and enjoying our pregnancy. When I gave birth to Maddox it was such a transformational moment for me, I couldn't quite believe that I could go from having a birth which was the most devastating and traumatic experience of my life to having the most wonderful, life-changing one.
Hypnobirthing enabled me to completely change my mindset, regain confidence in my ability to birth my baby and empowered me to have a completely natural birth, bringing my baby safely into the world. I absolutely loved giving birth!
How can I support with rainbow pregnancies…
In my darkest days of raw grief I never thought that I'd feel happy ever again, my world had fallen apart completely and although people say that I am strong, brave and courageous, I'm not – I didn't have a choice, I just had to learn to live with the pain of losing my babies, or not live at all.
It's strange to say but I feel lucky to have walked my path, to have had the strength to not give up hope, to be a Mama to my little boy Maddox, my little girl Marnie and my six angel babies – Hugo, Archie, Albie and my three little ones who I never got to meet. I carry them in my heart every day.
The pain of losing my babies will never go away but their existence has changed me completely and given me a purpose, a calling – to help and support Mamas and Papas who sadly have the world of baby loss opened up to them, or need any kind of support on their journey to becoming parents.
As well as being a Hypnobirthing instructor, I've completed The Calm Birth School Birth Trauma Competency training and I'm a Traumatic Birth Recovery 3 Step Rewind Practitioner, supporting those affected by perinatal trauma. It's an extremely effective therapy, which aims to separate the memory of the event from any negative feelings, allowing the feelings to be processed, so the memory no longer provokes fear, sadness or panic.
I can support you to:
understand and process the trauma of your loss and help you to move forward gently into your rainbow pregnancy
teach you lots of tools/techniques which will help you to relax into your pregnancy by encouraging a positive mindset
support you to empower yourself with information and knowledge to rebuild your confidence
I will hold and protect your space as a couple to enable you to both begin to enjoy your rainbow pregnancy together and let go of any fear, and
most importantly, because of my own personal journey, I can relate to how you may be feeling and will hold your hand every step of the way
Close
If you're on this journey now, just know that if I could sweep in and rescue you I would do anything to take your pain away, but I can't. Please trust me that life will get better, hold on, keep going, it will be ok and one day, I promise, you will feel that you can smile again.
Please make sure that you get the support you need and if I can help you in any way please just reach out to me. I'm happy to chat through how I may be able to help you.
Sending so much love and strength to you all. Please take care xx
Claudia is a Hypnobirthing & Mindful Breastfeeding Instructor, and Traumatic Birth Recovery 3 Step Rewind Practitioner
Volunteers' Week
1st-5th June
We would like to say a big thank you to all of our amazing befriender volunteers. We currently have 26 fantastic mums, two great dads and a lovely granny volunteering as befrienders. They talk to many of our bereaved parents and grandparents and give such good support.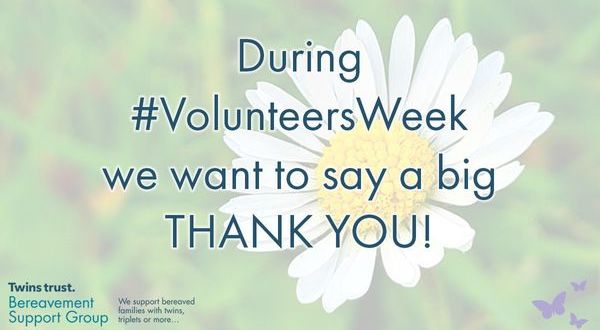 I would like to introduce you to two of our befrienders who have explained why they volunteer. We also hear from Jenny, who has been supported by a befriender.
Jeanne Reilly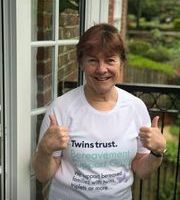 Jeanne has been volunteering for us for many years now and has provided a valuable listening ear to many. Thank you Jeanne.
"I became volunteer befriender about three years after my son Sam died. I had talked to a wonderful befriender after he died who supported me when I was at my most distressed. She said that one day in the future life would be better than it was at the time. She gave me hope. I didn't know how I would ever feel anything but sadness. She was right though. In time joy began to creep into my life. I still grieve for Sam, however, there is plenty of joy in my life and reasons to live. My life is good.
"I wanted to support others who didn't know how they were going to get through the day, and maybe give them hope too, so I became a befriender."
Jay Harper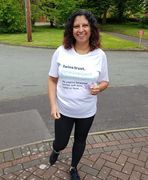 Jay has also been a volunteer for quite a while now and talks to many of our families who experience an early double loss. Thank you Jay.
"I volunteer because I had such a great experience of being supported when I lost my twins that I wanted to give something back in return. I get to share my experience with others and empathise with them to try to normalise their feelings / pain."
Jenny Fraser
"Having a befriender makes me feel like I'm not alone.
"It can often be like catching up with a good friend on the phone, only there is this understanding that no one else would get unless they've been through something similar. Sometimes for me it feels like everyone else wants to forget about my baby daughter Robyn existing and talking to my befriender helps me remember that she was real. I'm so grateful to her for giving up her time for me, it really means a lot."
If you would like a befriender please get in touch:
If you are interested in becoming a befriender you can find out more here:

Fundraising
Ben Nevis Night Climb, 12th June
What an amazing adventure and so wonderful to be part of the team of 10 charities taking on Ben Nevis at night, as part of the 'Big Steps for Small Feet'.
More than £11,500 has been raised for our Bereavement Support Group and research.
Another challenge is being planned for next year. We can't wait – do let us know if you want to do this too.
Last call for the ASICS London 10K
We have free spaces for the ASICS London 10k. Would you like to be a part of our 2021 team on 25th July?
The deadline to sign up is 16th July. Registration is FREE and we just ask that you raise £50 or more for Twins Trust.
The ASICS London10k is the UK's leading road race and follows a closed route past some of the capital's greatest landmarks including Big Ben, The EDF London Eye, St Paul's Cathedral, Trafalgar Square and Westminster Abbey.
Please email Lucie at [email protected] for more information or to sign up.

Join us for a virtual 10K sponsored walk on Sunday, 8th August to raise money for life-saving TTTS (Twin-to-Twin Transfusion Syndrome) research being carried out at the Twins Trust Centre for Research and Clinical Excellence at St. George's Hospital, and to support other key research projects.
Gather your friends and family – or strike out on your own – to go for a walk, run, hop, skip, jump, toddle, buggy-push; anything goes!
Our 10K for TTTS event in 2020 raised a fantastic £47,000. With your help we can save more babies' lives, as research is key to making sure all multiple birth pregnancies in the UK have the best possible outcomes.
To join in, to receive your BSG t-shirt and support with setting up your fundraising, please email Lucie at [email protected].
Virtual London Marathon
Have you always wanted to run the London Marathon but weren't successful in the ballot? This year there's a unique opportunity to join 50,000 runners taking part virtually, on the same day as the event in London. Virtual runners can complete the run in the 24-hour period, on 3rd October.
If you'd like to join our team and get your BSG t-shirt, please contact Lucie at [email protected] to find out more. If you're one of the lucky runners who got a space in the ballot, we'd love you to run for Twins Trust; don't forget to get in touch so we can support you with your fundraising.
Jamie Bruce
Jamie was lucky enough to receive a ballot place in the London Marathon 2021. He is taking the opportunity to raise money for the BSG; sadly, two families close to him have lost one or both of their twins. On 3rd October, he will be running in honour of James Cunningham, and Isabel and Dylan Summers.
Thank you so much to Jamie, who has already raised almost £3,000 so far, which is amazing. If you would like to support him, you can visit his Virgin Money Giving page here.
Other events
We have new, exciting challenges planned for this autumn – please keep an eye on the BSG Facebook group or email Lucie for full details.

To pick just one, the Royal Parks Half Marathon: join #TeamTwinsTrust and book a sought-after space through our charity on this stunning central London Half Marathon. This event sells out every year so don't miss your chance!
When? Sunday 10th October 2021
Entry fees and sponsorship target: register for your Twins Trust charity place by 20th August 2021 for just £30, and aim to raise at least £350.
If you have your own place we would love you to fundraise for our charity too. Raise £150+ and take your place on our virtual wall of fundraising heroes.

Important
When you set up a JustGiving page, you'll be asked to confirm if you're happy for Twins Trust to keep you informed by email. Please be aware, if you select "Yes please, opt me in", you'll receive an automated 'welcome' email from Twins Trust. Later you will then also receive marketing emails, which include links to our main website. Please be sure to click "No thanks, opt me out", if you don't want to receive marketing emails from Twins Trust. Please note, you will still receive emails regarding your fundraising challenge/event directly from our fundraising team.
If you've subscribed to the newsletter and wish to unsubscribe, you can do so via the link near the bottom of your email.