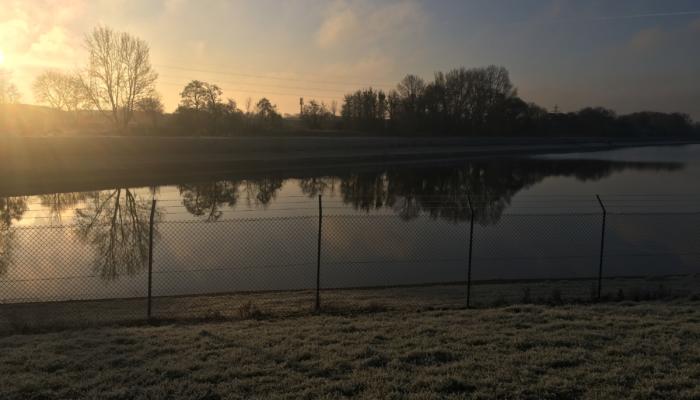 Welcome to our winter newsletter. It can be a particularly difficult time as we approach Christmas without our babies. Please take care of yourselves. I find it helpful to remember my twins in a number of different ways, such as lighting candles on special days, decorating the cemetery, hanging twin related decorations on my tree etc.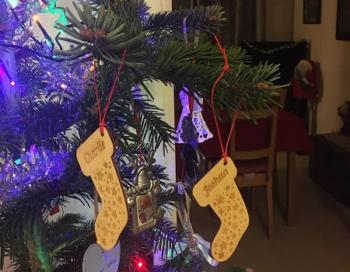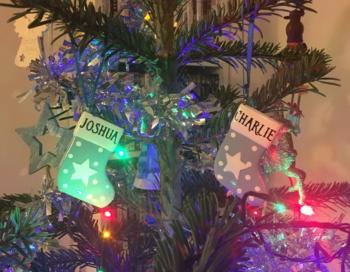 The Twins Trust BSG exists to support all parents and carers who have lost from a multiple birth whether it is during or after pregnancy. We are sorry for your loss and hope that you will find some comfort in the newsletter. If you would like your personal story to be included in a future edition of the newsletter please get in contact: bereavementsupport@twinstrust.org.
Poem
These Are My Footprints
These are my footprints,
So perfect and so small.
These tiny footprints,
Never touched the ground at all.
Not one tiny footprint,
For now I have my wings.
These tiny footprints were meant
For other things.
You will hear my tiny footprints,
In the patter of the rain.
Gentle drops like angel's tears,
Of joy and not from pain.
You will see my tiny footprints,
In each butterfly's lazy dance.
I'll let you know I'm with you,
If you just give me a chance.
You will see my tiny footprints,
In the rustle of the leaves.
I will whisper names into the wind,
And call each one that grieves.
Most of all, these tiny footprints,
Are found on mommy's heart.
'Cause even though I'm gone now,
We'll NEVER truly part.
Tamara Barker
Baby loss awareness week
Baby Loss Awareness week took place in October and was a chance to raise the profile of baby loss and for us to remember our babies. I shared this photo in our Facebook group as I think it sums it all up perfectly.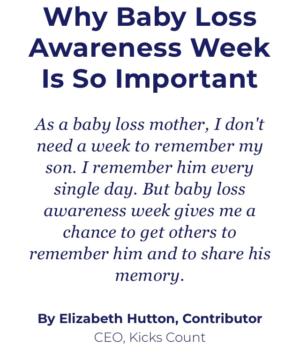 Our Facebook group shared some lovely thoughts and memories of our babies during the week and many of us changed our profile pictures or added a frame. Here are a few quotes from our lovely group…answering the question:
What do you think has helped you most so far with your grief?
Counselling, and finding this group of course.
My befriender, who helped me so much in the early days and who put me in touch with all of you…
It definitely has to be this group. I feel that no matter what I post: feelings, thoughts, questions, or asking for advice there is at least one person here that understands. I feel safe here to express myself…
Your phone call
This group and the 4Louis charity.
We finished the week by sharing our candle photos lit for one hour on 15 October at 7pm to create a wave of light across the world. It was very special.
Fundraising
Thank you so much to all our wonderful fundraisers.
Nicola Hasyn held a bake-off and a silent auction. She raised £150 for our TTTS Appeal in memory of Leo and Tyler Brightman.
Aaron Grierson did 28 days of 5km runs in June, raising almost £1,000 for our TTTS appeal and the Lily Mae foundation.
Rebecca Clough held a work bake sale in July, raising £100 for Research Rocks.
Suzie Scofield took on the British 10k challenge in July with her mum Kat Jackson and friends Fiona Stubbs and Louise McCartney. They raised £2,400 for the Bereavement Support Group.
Tony Meates ran the British 10k in July, raising almost £1.5k for Research Rocks.
Steph Brown completed the Great North Run back in September, raising money for the Bereavement Support Group and our TTTS Appeal. She said, "Twins Trust has supported my sister and I would love to give something back." Steph's brother in law James Andriot also took part.

Kayleigh Brown ran the Great North Run with her husband Ed and her parents Gordon and Jill Willoughby. They raised £1150 for the TTTS Appeal.

Katy Armstrong inspired so many of her family and friends to raise money for TTTS, this year's she's taken part in the Great North Run.

Jen Ponting who is Katy's friend also took on the half marathon, this was her second time for Twins Trust raising £480.

Philippa Paddock, whose story we featured in the last newsletter, completed the Warwickshire Triathlon and raised £1,600 for Twins Trust Research Rocks and The Lily Mae Foundation.

Rebecca Burgin ran the Chesterfield Half Marathon with her husband Alex and friends Rachel and Adam in October. They raised £1890 for TTTS.

Jess Hannan took part in the Rutland Evening 10k Run in November and raised £868 for the TTTS Appeal and Bereavement Support Group. Her sister lost her baby girls.
Could you raise money for the Bereavement Support Group, Twin to Twin Transfusion Syndrome or Research? Twins Trust holds places for the following challenges but your ideas are welcome and we'll do our best to support you.
British 10k London Run on Sunday 5 July 2020
Ride London-Surrey100 on Sunday 16 August 2020
The Great North Run on Sunday 13 September 2020
If you'd like to take on a challenge for Twins Trust, please get in touch with Lucie at luciewigley@twinstrust.org, or call 01252 332344.
Big Steps for Small Feet
Be part of the unique challenge event Big Steps for Small Feet, setting off on 13 June 2020 – watch the sunrise on the top of Ben Nevis. Ask your friends and family to join you on this wonderful experience. Raise money at the same time so we can help our bereaved families and help save babies' lives.
Please note: this link will take you to the main Twins Trust website.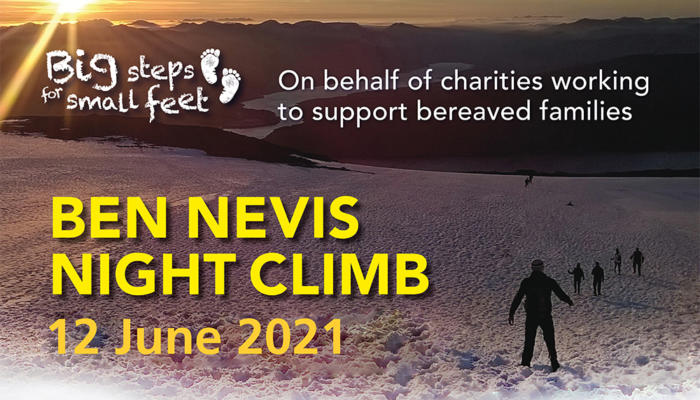 Support for men
Bereaved fathers
Richard Boyd, Twins Trust befriender
I was invited by Sands to take part in a panel discussion on fathers and bereavement. It was really good to meet Rob Allen, Jonathan Bird and David Haig was a true gentleman taking the time to talk with us before the session to learn more of our stories and guide us through the process.
I was nervous about talking about my sons. Most of the time I tend to stay away from the specifics almost to the point where people may mistake me as an ally rather than bereaved father. I'm glad I did talk because I spoke to parents afterwards that had had similar experiences. It also allowed me to talk to bereaved parents of twins and more who had not heard about the Twins Trust and were keen to learn more about the support its Bereavement Support Group offers.
David made good use of the short time we had together to focus us all on the different ways we found our own way to live with our grief and the way that changes over time. Hearing the story of Sands United and how it has grown so quickly and the impact it had was incredible. When it came to Q&A so many of the speakers gave personal accounts of the difference it had made to them and their partners. It helped highlight the value of not only considering diversity in loss but in support structures too. Providing non-talking based options rooted in a shared interest can be a powerful way to allow bereaved parents the space to talk if they find it helpful. Not everyone wants to talk, we can still create the space to allow them to should they change their mind.
I was grateful for David to allow me the prompt to talk of the importance of suicide prevention and accessing help early without waiting for it to be 'bad enough' to seek support. I also spoke of how many different forms of support there are out there and to keep exploring if you find one that doesn't work for you. Grief is highly individualised experience and what may comfort others offers nothing for me. Language can be a big part of that as well as tone. We can offer our help in finding those different voices, ones that resonate with our own.
Ashley Rankin, one of our dads in our Facebook group tells us...
"I have been fortunate enough to stumble across a local football team (Sands United) which I recently joined. This is a team of lads who have all been affected by child loss and these lads are now like my extended family, I can talk to them about anything."
Ashley explains that the team badge is made up from all of their angels' names from the team.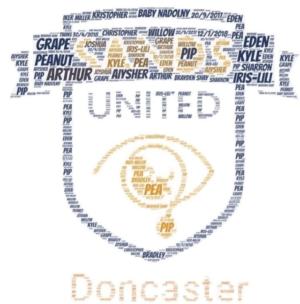 If you'd like to know more about the team please click here.
Sign up here to receive the BSG newsletter by email four times a year.
If you've subscribed to the newsletter and wish to unsubscribe, you can do so via the link near the bottom of your email.