15th May
Spending time with your twins or triplets in neonatal care is hugely important, but with restrictions in place due to Covid-19 it is now an even more worrying and unsettling time for parents.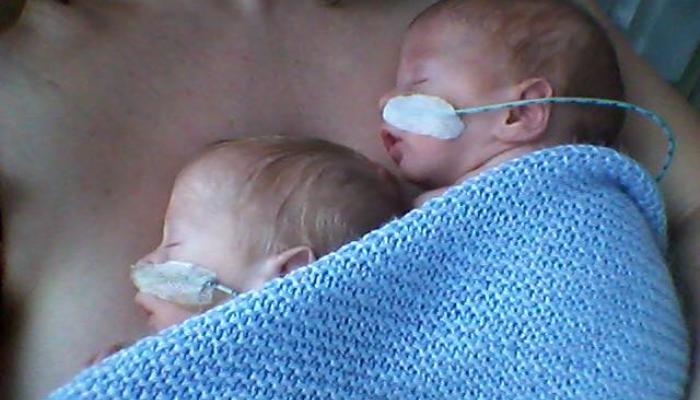 We helped a distressed new mum of premature twins who was struggling after being told she would have to split her allotted time between both babies.
This meant she was being given the same amount of time to spend with two babies as a singleton mum with just one baby in neonatal care.
She didn't think this was fair – and neither did we.
We were becoming increasingly aware of parents being asked to choose one baby to care for during a visit and to alternate between babies on different days.
It is vital that parents have an equal amount of time to spend with each of their babies every time they come to the neonatal unit and the time spent with each baby should not be restricted routinely.
Parents must have the opportunity for bonding, to provide skin to skin care and time to speak with staff on the unit regarding the care of each of their babies.
The restrictions have affected parents' access to their poorly babies in neonatal care, which led to Bliss, the charity for babies born premature or sick, starting the 'Parents aren't visitors' campaign.
Bliss wants consistency across UK hospitals and says that even with restrictions in place, it is possible for neonatal units to continue an approach which allows parental involvement in their baby's care.
We got in touch with Bliss and asked them to adjust their guidance adding that mums of twins, triplets or more, get the same amount of time a singleton parent would have with each of their babies.
It would mean being in neonatal for longer, but the babies are individuals and we don't think they should miss out on this important bonding and feeding time.
Bliss were keen to help and now parents of twins, triplets or more are now well represented in new guidance.
We don't want any parent to feel they are not getting the right amount of time with their babies.
Keith Reed, CEO of Twins Trust said: "We understand that this is a hugely distressing time for many of our new families who are having to leave their babies alone in neonatal care for longer periods.
"We will do all we can to make sure the voices of multiple birth families are heard and that their babies are treated as individuals who deserve the same amount of time with their parents as a singleton family.
"With many families going home in the lockdown period it is vital that parents leave the unit confident and well bonded with their babies."
Twins Trust works closely with Bliss on lots of campaigns and resources, including jointly writing our neonatal guide and the charity were incredibly helpful when we approched them about this.
Twins Trust is here for all families with twins, triplets and more who are without their normal support networks and would like support and advice on sleeping, feeding, weaning or other help on caring for your babies.
Click here to find out more about our Family Crisis Support.