7th December
Twin mum Katie Melderis is looking forward to Christmas with her girls Maisie and Mia following a traumatic year where they survived life-saving laser surgery for TTTS (twin to twin transfusion syndrome) and recovered from viral meningitis.
Recruitment consultant Katie and her partner Yanis from Southampton were thrilled to discover they were expecting twins.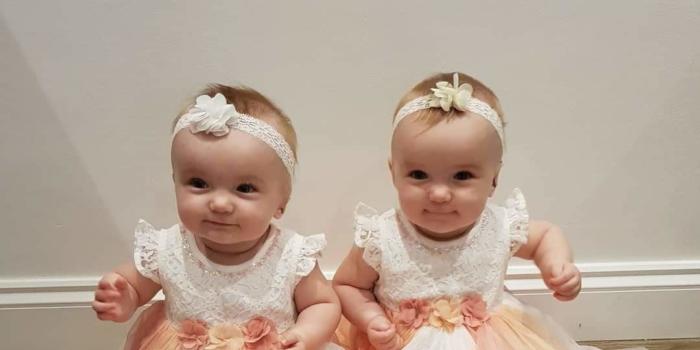 "I had a scan at eight weeks because I was so sick," said Katie. "Then to find out it was twins came as a bit of a shock, but we were so excited.
"The 12-week scan confirmed everything and we were referred to the fetal medicine unit at the Princess Anne Hospital where I had fortnightly scans."
This was where the couple were told about TTTS - a rare but life-threatening condition that affects around 10-15% of identical twins that share a placenta (monochorionic twins). Twins Trust funds research into TTTS and is the only UK-wide charity collecting data on the condition.
"We were fully informed about TTTS, told what signs to look out for and at the 16 week scan we were told there was a slight fluid difference in twin one," said Katie.
"I wasn't really concerned at that point and didn't think anything would happen to us – but I was wrong!"
Katie was scanned every week, sometimes twice a week, and at the 20-week scan she was told some devastating news.
Rushed to St George's Hospital in London, a scan showed that she had developed stage 3 TTTS. Emergency laser surgery was immediately carried out in the womb which seals blood vessels to control blood flow and two litres of fluid was drained.
Katie said: "I stayed in hospital overnight and the next day we were told that the twins were OK, but twin one (Maisie) had developed a heart murmur."
At 33 weeks Katie's waters broke. She was given steroids to help develop the babies' lungs and stayed in hospital on bed rest until the girls were born naturally at 34 weeks.
Maisie weighed 4lb 4oz and Mia 4lb 2oz and the twins were in neonatal care for five days with Maisie's heart murmur being monitored.
But the trauma didn't end there.
At just six weeks old little Maisie developed a very high temperature and had problems breathing. She didn't want milk, seemed to be in a daze and wasn't maintaining eye contact. She also started developing a rash. After calling 111, Katie was advised to take Maisie straight to A&E where tests showed that six-week old had viral meningitis.
"I couldn't believe it," said Katie. "It was such a frightening time. She was in hospital for seven days and I stayed right by her side while Yanis was at home with Mia."
When Maisie was discharged, mum and baby went home to find Mia had started to develop similar symptoms.
Not wanting to believe meningitis had struck their other daughter, but fearing for her safety, the couple took every precaution and rushed Mia straight into A&E.
Tests showed that Mia too had been struck down with viral meningitis, the same as her sister, and remained in hospital for five days.
"It was such a scary time. We thought we'd had our fair share of trauma with the TTTS diagnosis and life-saving laser surgery. The viral meningitis came as a massive shock and it was awful to see them so poorly.
"Thankfully they are both doing really well now; the girls are so strong. The NHS staff at the Princess Anne Hospital in Southampton were just amazing.
"We are now looking forward to enjoying a lovely family Christmas and count our blessings with our two gorgeous girls."
Keith Reed, CEO of Twins Trust, said: "We are delighted to hear that the family are all well. This is down to the excellent care they received from the NHS at their local hospital and at St George's.
"Sadly not everyone with TTTS has a happy outcome and we would urge families expecting monochorionic twins to visit our website to find out more about the condition and about the NICE multiple birth guidelines which set out what good quality care looks like."