26th May 2017
Twins Trust has congratulated Hollyoaks actor Kieron Richardson on the safe arrival of his twins via surrogacy.
The actor tweeted on Friday afternoon "Welcome Chase and Phoebe Rae x" accompanied by a picture of their hospital name tags.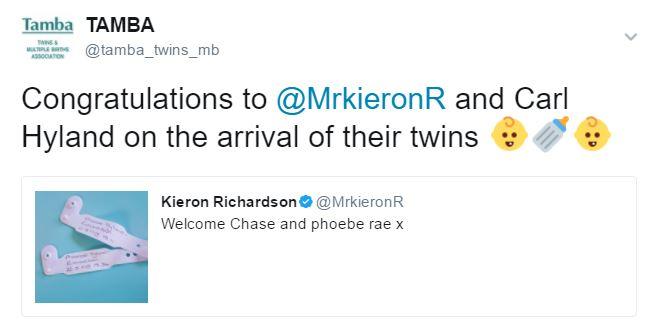 From the picture Kieron tweeted, we can see that Chase Hyland-Richardson was born at 18:11 on 22nd May 2017 and Phoebe Hyland-Richardson was born a few minutes later at 18:34.
Kieron revealed he was expecting twins via surrogacy at Christmas. Kieron and Carl posted a cute video online showing them both holding a sign in front of a Christmas tree. It read "Twins coming 2017".
He was also interviewed on This Morning in March and said: "I'm having two babies, which is absolute brilliant, by a surrogate. We tried really hard for it."
Twins Trust CEO Keith Reed said: "We're delighted to hear that Kieron and his partner Carl have become parents to twins. They have many happy moments ahead of them and we wish them the best of luck.
"Anyone who is a new parents of multiples, like Kieron and Carl, can visit our website for lots of resources and tips."
Our charity has a same-sex couple factsheet here. If you're expecting twins, triplets or more, we have everything you need from the beginning of your journey through to when your multiples are all grown up.