17th March 2019
A twin dad from Evesham is raising money to help fund research into the devastating condition TTTS (Twin to Twin Transfusion Syndrome).
Paramedic Ben Rean will be cycling in the epic 100-mile Ride London in August, alongside fellow twin dad Tom Hughes. Both will proudly be wearing their Twins Trust t-shirts.
Ben wanted to support Twins Trust after his identical twin girls Isla and Jemima had a tough start in life arriving 11 weeks early because of TTTS.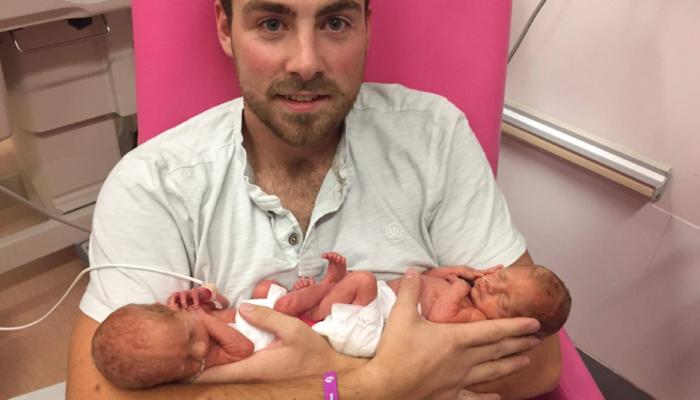 "I want to do something to help so we can understand more about TTTS and reduce the heartache that so many twin families go through," said Ben.
Ben and his wife Tabby were thrilled to find out at a 10-week scan that they were expecting twins and Tabby remembers this as "the best day of her life".
We walked away excited about having two babies and the fun and joy they would bring us
Two weeks later at a scan the couple were told about the risk of having multiples, especially as their girls were identical and shared the same placenta.
Tabby should have had another scan at 16 weeks, but this was missed and the couple knew this wasn't right so pressed hard for a scan.
Twins Trust's Maternity Engagement Programme shows that if units follow clinical guidance on the care of multiples, which includes ensuring the crucial 16-week scan takes place, that babies' lives can be saved and there would be fewer neo-natal admissions.
Tabby found out she had TTTS at a scan when she was 17 weeks and 5 days pregnant – and it was serious. Already suffering from acute hyperemesis gravidarum and in their local hospital on a drip, she was transferred to Birmingham Women's Hospital under the care of twin expert Professor Mark Kilby.
He told us there was a 60% chance of losing them both and an 80% chance that only one of the girls would survive. We were devastated
Laser ablation was carried out and the girls survived. They then endured an agonising 72-hour wait for the next crucial scan, which fortunately showed two heartbeats. The intervention had worked.
Ben says: "We were being scanned weekly and planned for a c-section on December 18, 2017, but the girls had other ideas and Tabby went into labour at 29 weeks +2 and there was nothing we could do to stop this.
"Tabby's placenta had abrupted the night before, and no-one knew. Both our beautiful twin girls had to be resuscitated, both were born septic and were rushed into NICU. Isla was 3lbs 2 and Jemima 2lbs 7. We weren't able to see them for hours – it was heartbreaking."
The girls were in neonatal care for six weeks and Ben says the staff there were 'incredible'. The girls came home on their planned c-section date!
"They are doing so well now at 14 months old and we truly feel lucky. We have friends who have been through the same journey and lost both their babies. We have friends who had TTTS to a different level. We were one of 56 operation performed at Birmingham Women's Hospital that year and with the 60% chance of losing them both can see that we need to know more about TTTS."
We arranged for the family to go back and meet with Professor Kilby in February this year to say a proper 'thank you' and Ben and Tabby's amazing story has been featured in their local press, the national press, on their local radio station and even on the Kay Burley Sky News Show.
Update: Ben completed his challenge on 4th August 2019 and raised over £1400 for Twins Trust and our TTTS appeal. We want to say a huge thank you to Ben and Tom for their support.

Feeling inspired? Check out all the ways you can fundraise here or get in touch with our team to support with your own ideas.