10th August 2018
Gemma Howley was so devastated for her good friends Katy and Andy when they lost their baby twins that she wanted to do something in their memory.
On August 18th, Gemma embarked on a 3 day, 60km trek through one of the planet's most volcanic regions in Iceland to raise money for Twins Trust and specifically for our major research project into twin-to-twin transfusion syndrome (TTTS).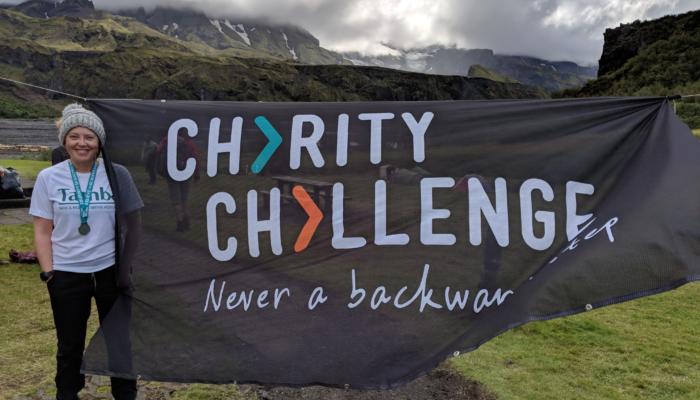 Gemma's childhood friend Katy and her husband Andy found out the devastating news that their twin girls, Olivia and Ava, had both died in the womb after 23 weeks of pregnancy.
The girls had died of TTTS, a rare condition that affects about 10-15% of monochorionic twins, (twins that share a placenta).
Despite raising her concerns with medical professionals after feeling unwell and spotting TTTS symptoms over a number of weeks, Katy was sadly not given the necessary treatment to save her girls in time.
Twins Trust is spearheading the widest multiple pregnancy research programmes anywhere in the world, which should improve TTTS treatments, reduce prematurity and save lives.
Currently, there is little research conducted into looking at the most effective treatment for TTTS in the short or long term and no comprehensive outcome data collected and published, so doctors cannot compare what is working best and why this might be.
We are working with St George's hospital and other fetal medicine centres to set up a UK-wide registry of all TTTS pregnancies, their treatments and outcomes which should help to build a true picture of TTTS cases in the UK.
The registry will be used to assist the improvement of clinical skills and practice and therefore help to provide better patient care. It will also establish a platform to allow long-term follow up of TTTS survivors showing the longer term neurodevelopment outcomes.
Twins Trust is keeping the TTTS Appeal ongoing because of the continuous running costs associated with the registry and the need to appoint a research midwife to liaise with the hospital units to ensure the data is collected.
Gemma, 33, was joined on the trek by her wife Nikki, 30. The couple, who both work at Google, walked rough terrain for about 10 hours a day, navigating steaming lava fields and plunging fjords, and setting up and breaking down camp each night, all with only three hours of darkness per day.
Gemma said: "When this happened to Katy, one of my best friends from primary school, it hit us all so hard and you kind of feel helpless as to know what to do.
"Nikki and I had been thinking about doing a tough physical challenge for charity and when Katy received advice from Twins Trust I decided this was the cause to support because of the excellent work you do in this field of research."
Their fundraising was also matched by Google, making their donations go even further.
Visit their fundraising page, which is being shared with the charity Mind whom Nikki is raising funds for, to find out more.