20th June 2017 - Simon Bradley.
596 starters. 474 finishers. 1 LONG Wall!
On Saturday 17th June Simon Bradley set off from Carlisle to take on The Wall, a 69 mile run along Hadrian's Wall.
Simon and his wife had their twins, Tom and Sophie, two years ago and have been supporters of Twins Trust ever since. Here, Simon tells us about what got him through the challenge and that last push for the final mile.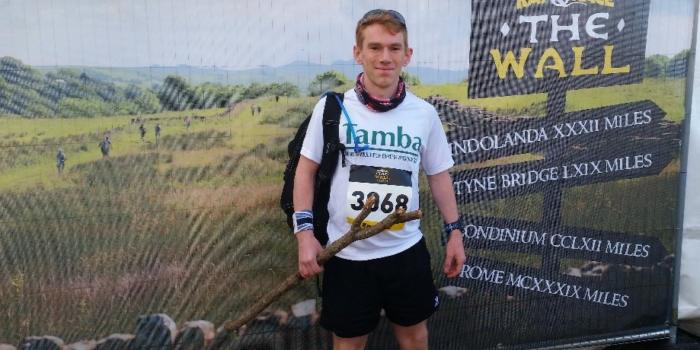 I met a fellow Twins Trust member who recognised the t-shirt in the hotel before the start. He said that his twins were now 15 but that he'd read about the various conditions which impact twins when his other half was pregnant so really appreciated Twins Trust's work.
At the very beginning while we were all still fairly densely packed we went through a small tunnel. One runner shouted out OGGY OGGY OGGY; the lot of us responded - this was a solid reminder that there may have been hundreds of us, but we were all stark staring bonkers.
At around mile 59, with more than a half marathon's distance to the last proper pit stop, I hit empty. Had just about nothing left. Saw a tree stump. Sat down. I couldn't see how I could get up, let alone walk, let alone run.
One phrase came to mind - empty cots.
Some friends of friends lost both of their twins to TTTS shortly after their birth. The thought of coming home from hospital to empty cots is haunting. I felt so tired and getting up from that stump was one of the hardest single things I've done, but it's nothing on what that couple had to face that day, and the day after, and remember for the rest of their lives.
My wife asked them Daddy was doing?.

"Running"

"Is Daddy running quick or slow?"

"Slow"

They were not wrong!
The Gateshead Millennium Bridge in Newcastle marked our home straight, it was the last curve before you finish at the Royal Navy Reserve compound, HMS Calliope. As the sun goes down the bridge lights up with rotating colours. You can see the it from about a mile away.
From the last pitstop at 62 miles to the finish line at 69, my last mile was my fastest - the folks applauding while on their nights out in Newcastle propelled me over the last few hundred metres. This proves how much a distance event like this can be about your head rather than your physical capacity.
I confess, I stayed the night in a hotel in Newcastle before getting the train back home - though I did make it back in time for a Father's Day BBQ lunch with the kids.
I came 90th; finishing in 15 hours 36 minutes; there was still a little daylight in the sky! Ecstatic doesn't come close.