During the pandemic, social distancing and isolation means children are missing out on seeing their beloved grandparents.
This can be particularly tough if your twins or triplets see them on a regular basis – maybe they help look after them during the week?
Not being able to see grandchildren can be a lonely experience while young children may get upset and confused as to why they can't see Granny and Grandad.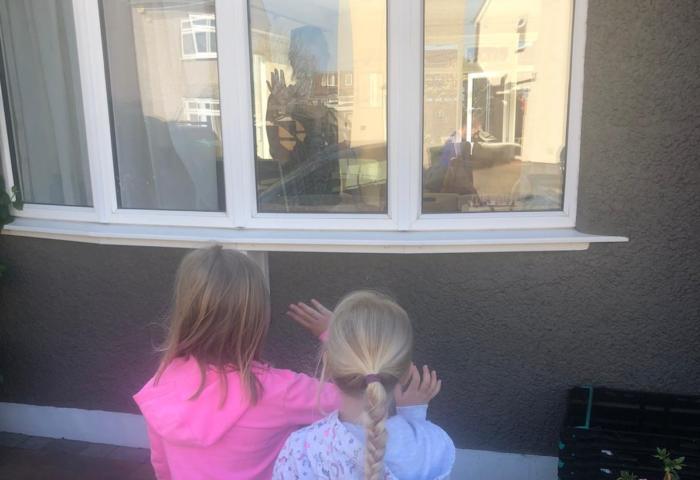 Here are some things you can do to maintain regular contact. Do you have any others? We'd love to know.
Virtual walk: Older twins could take their Grandparent on a 'virtual walk'. We know someone who Facetimed their Granny who lives 90 miles away and took her with them on their daily walk at a local beauty spot near their home with their dog Poppy. Granny knows the area and loved seeing the new bluebells coming out. She said: "It was lovely and made my day. I can't wait to go for a walk there again soon and give my girls a hug."
Quizzes: How about writing a quiz for your grandchildren? If you live close by grandparents could write a quiz and if they are able to, leave it at the house, or do it online via one of the video apps. See which one of your twins, or triplets, win. But remember it's just for fun!
Do a crossword: Dig out that old crossword book (or print one off from the internet). Find a quiet spot in the house for your children to call their grandparents so that they can complete the crossword together. Children can sometimes struggle with making conversation on phone calls. The crossword clues will provide plenty for the children and grandparents to talk and laugh about.
Virtual or phone chats: set up a regular time to have a chat about the day – children will have always done something during the day and grandparents love hearing about this. Having a regular chat provides a bit of structure to your day and can give everyone something to look forward to.
Writing letters: Go old school. While some post may be a bit slower than usual our posties are doing a grand job. Making and sending cards and letters is a lovely gesture. Admit it, who doesn't like to receive something in the post (as long as it isn't a bill!)
Send flowers: A couple of you told us that you have drawn a bunch of flowers or used some arts and crafts to make them and left them for grandparents while dropping food essentials on the doorstep. Then they'll just have to find the 'right type of vase' to display them!
Behind the glass visits on your daily walk: If you live close to grandparents, you'll be able to see them from their window on your daily walk. Why not take your chalks and draw a lovely rainbow of hope outside their house?
Watch a film together: Arrange to watch a film at the same time. Phone afterwards and talk about the best bits.
Read bedtime stories: Night night! Place your phone, iPad or laptop next to the bed and ask granny or grandad to read a bedtime story. Who needs Tom Hardy on Cbeebies? Or why not ask grandparents to listen to their grandchildren read while you get on with your wine….ahem, we mean work!