30th March
At Twins trust, we understand that being a parent of twins, triplets or more can be incredibly hard work as well as incredibly rewarding. We are huge fans of encouraging families of twins, triplets and more to reach out to the different support networks which are available to them. We know that this support makes life so much easier for families, resulting in happier parents and in turn happier babies.
However, with the Covid-19 outbreak and the enforced isolation, we find ourselves in very different circumstances. Suddenly these trusted and very much needed sources of support are no longer available, which might result in many worries for you.
You are not alone, parents around the world have suddenly found themselves in the same situation. The first golden rule is be kind to yourself. This is a time like no other, as long as your babies are fed, loved and stimulated you are doing a great job. Don't try to do too much.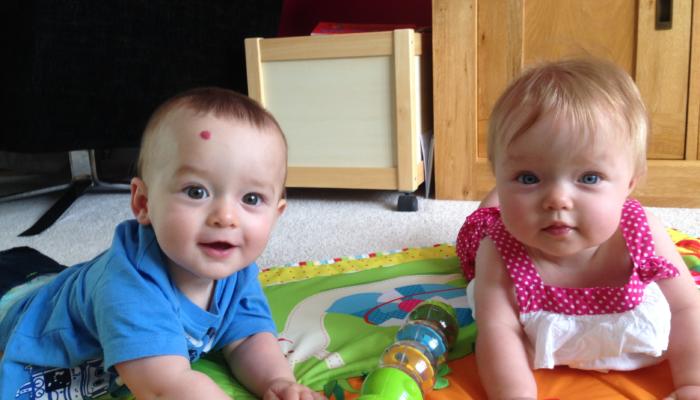 We have spoken to our Twins trust childcare experts and other parents of twins, triplets and more to provide you with some tips on how to make the coming weeks or months bearable, and yes, even enjoyable!
Get organised
Create a routine – You will find that you feel more in control of your day if you are able to follow a routine. Ensure to include feeding times, nap times and bath times. Break the day up to include walks outside. Reward yourself throughout the day and perhaps call a supportive friend or family member at a certain time each day when you know you are likely to have a lull in your energy levels.
Make sure you have everything to hand. If you have less help at home than you are used to, consider setting up various changing stations so that you don't have to split your time between babies when changing one. You can set up safe sleeping areas down stairs too.
With less help than usual, you might be feeling more overwhelmed, which might make you feel a little less organised around feeding time. Take some of this worry away by creating a simple feeding log of who has fed, how much and when.
Older babies will start to develop some sort of sleep routine throughout the day and may start to have a more regular bedtime. If you don't already have one, start making a log of when they sleep. This will enable you to feel more in control of your schedule, which will be hugely beneficial when isolated. It means you can have some much needed time to yourself when the babies are sleeping. For more information on creating effective sleep practices click on our website here. You can also access our Safer Sleeping factsheet which is specific to safer sleeping for twins, triplets and more.
Organise your time so that when they are sleeping you are sleeping or at least resting – you have nowhere else you need to be and you will need some down time!
Stay connected
Use the technology out there to stay connected. Message your friends, even if it's just to say hi, it helps to feel connected. Video call with friends and family too. It will help you feel less isolated, and your babies will enjoy hearing familiar voices and seeing familiar faces. You may find it a comfort to have a video call running in the background, with a close friend or grandparent, you can chat casually with them, as if they were right there with you.
Look out for local volunteer neighbourhood groups who will be happy to help with shopping etc.
Connect with your local twins & multiples club. They will be able to help you find local volunteer groups who may be able to help.
Keep an eye out for our new Twins trust forum which is coming soon, a great tool to help you connect and build relationships with other parents of multiples whilst in isolation.

Get outside
Walking with your babies in their pushchair can be a relaxing time. Currently it is not advisable to walk with your babies in busy places, but you are still able to walk outside for exercise once a day. A walk around your park in the fresh air and sunshine, can be a great way to re-charge your batteries. If you don't feel comfortable going outside into public spaces, you can always walk your babies around your garden. Even if it is a small space, your babies will enjoy the change in scenery and it will be a nice break away from the house for you. If you don't have a garden and you feel uncomfortable going outside, make sure you open the curtains, pull up the blinds and let daylight in. Open a window and fill your room with fresh air.
Ask for support
Whilst friends and family can't come around to see you at the moment, they still can help you in various ways – so say yes to help offered! Friends and family can cook for you and leave meals at your door step, or help with the shopping, even if it is just the essentials, it all helps.
Whilst GP surgeries are asking people to stay away if possible and baby clinics are temporarily not running, you can always call your GP or Health Visitor for advice and they will be able to assist you or direct you to someone who can. Remember you can always call 111 if you are anxious about any health complaints with your baby.
We are here for you at Twins Trust too. If you are feeling overwhelmed or would simply like to speak to a fellow parent of twins, triplets or more you can call our free confidential helpline on 0800 138 0509, open Mon – Fri 10am-1pm 7pm-10pm. Or you can email us with any concerns or queries you have:

[email protected]

. If you have any questions related to breastfeeding your twins, triplets or more, you can email

[email protected]

and one of our breastfeeding peer supporters will be in touch.
Some simple play ideas to keep your babies engaged:
You! You are your babies biggest source of entertainment right now. You talking to them, smiling and interacting with them helps with all areas of their development and will keep them engaged.
Baby gyms & play mats are great fun for your babies. You can line them all up safely as they look at around at mirrors and toys. As they get older the different hanging toys will encourage them to reach out and kick which helps with coordination.
Sensory blankets and toys – these are great to keep your babies entertained. You can make your own box of sensory toys to have to hand. Textured materials, textured baby books, teething toys and musical baby toys work well.
Remember, the situation won't always be like this. You will have your support systems back in place sometime soon. In the mean time we hope these ideas help you and your family to enjoy each other and play together.
If you would like advice specific to Covid-19, you can find the most up to date information from
Public Health England: https://www.gov.uk/coronavirus