15th March 2021
Twins Trust made national and international headlines on Friday following the release of the first comprehensive global overview in Human Reproduction which shows more twins are being born than ever before.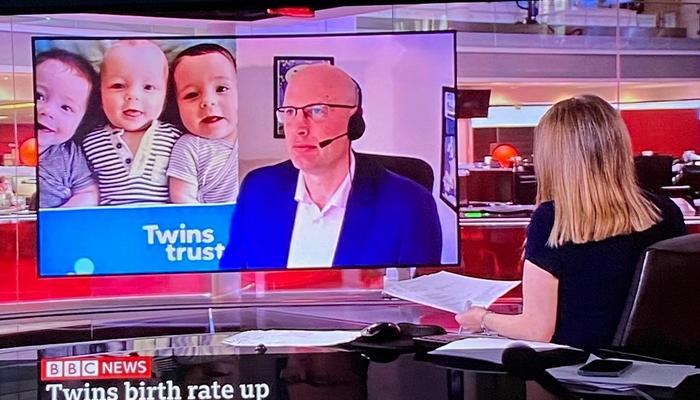 The study, by Professor Christiaan Monden, of Oxford University found that since the 1980s the twinning rate globally has increased by a third, meaning that about 1.6 million twins are born each year worldwide and one in every 42 children born is a twin.
The study finds that a major cause of this increase is the growth in medically assisted reproduction (MAR), which includes not only IVF (in vitrofertilisation) techniques, but also simpler methods, such as ovarian stimulation and artificial insemination.
Another cause of the increase is the delay in childbearing observed in many countries over the last decades, since the twinning rate increases with the mother's age.
However, this trend is not being followed in the UK. According to the ONS (Office for National Statistics) the number of multiple births in England and Wales in 2019 dropped to the lowest since 2005 to 9,656 maternities (it was 10,005 in 2018). The peak here was in 2011.
There were also 137 sets of triplets and six sets of quads born in England and Wales in 2019.
Keith Reed our CEO, spoke with BBC National News, Channel 5 News and BBC Radio Devon about the work of the charity, the support we offer to families and professionals, coupled with the joys and challenges that come from a multiple birth.
Twin mum Georgiana from London, who has newborn identical twin girls born thanks to the third round of IVF and Lia from Scotland who has identical three-year-old boys, were also interviewed on BBC News.
Professor Asma Khalil from the Twins Trust Centre for Research and Clinical Excellence who leads a team of clinicians at St George's University Hospital in London, was interviewed on BBC Breakfast News alongside John and Edward Grimes, more commonly known as Jedward.
She then spoke about IVF and the risks that come with some multiple births on BBC Radio Coventry & Warwickshire.
In the evening on BBC World News, trustee and Twinline listener Sarah Perris and her girls Georgie and India were interviewed.
We hope you managed to catch some of the news. It's wonderful to be part of a very special community!