7th June
"On Wednesday April 1st, I gave birth to my twin boys, Ben and Charlie who weighed in at 5lbs4oz and 4lbs respectively.
My little pandemic miracles!
"The week before that I was on the antenatal ward at the Royal Victoria Infirmary in Newcastle. The day after lockdown came into full effect, when the announcement was made there was to be no visitors (partners included) on the ante and postnatal wards...well, it just floored me completely.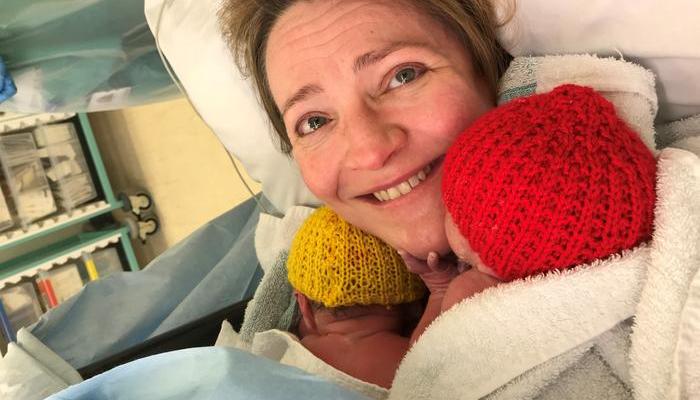 "I had a week (mostly alone on the ward) mentally prepare myself to go it alone, so to speak. To have to look after two new babies on my own straight after major surgery, without the support of my other half, petrified me.
"I remember how hard the first few days are physically from when I had given birth to my daughter, Zoey, six years earlier by c-section.
"I had already lost the physical support after the birth as my mother was meant to have flown in from South Africa in the weeks before and stay with us for a few months, but with the pandemic that isn't going to happen for who knows how long?
"With social distancing and isolation I had lost my local tribe of heroic women, my friends around me that would usually be my harbour in emotional storms like this. It was all becoming too much.
"Fast forward to the day of the birth, an elective c-Section. It was the most amazing gentle, surgical birth.
"Simon was there and stayed with us through enhanced recovery (about 4hrs), sharing skin to skin time and starting our breastfeeding journey in the recovery room. Special thanks to all the midwives, theatre nurses and doctors for bringing my babies safely into the world!
The midwives on the delivery suite were nothing short of angels, especially when it came to having to say goodbye to my partner.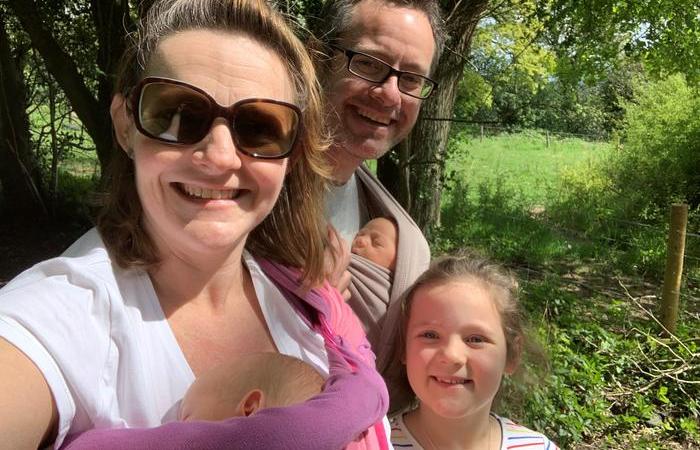 "It was heartbreaking, to say the least, and no amount of preparation prepared me to how visceral the parting would be. But the compassion and encouragement these ladies showed me was everything I needed to help me walk away with just my new babies.
"The team on the post natal ward were superb; they were working under extreme circumstances and restrictions, emotions no doubt running higher than ever in an already stressful environment.
"They were just fantastic, the nursery nurses - outstanding! The support, the help... it was like they intuitively anticipated what I needed and most of the time just came to help before I even needed to ask.
"Visiting hours were replaced by FaceTime. Most calls very emotional, my heart ached at the injustice that Simon couldn't hold his healthy boys and Zoey couldn't meet her new brothers. Very surreal.
"But the staff were so incredibly empathetic in such a difficult situation and yet so positive and attentive in their care.
They have made this experience full of amazing memories for me to take forward and reflect on.
"Their unwavering commitment to helping and caring, rather than dwelling on the fact that I gave birth in a time when the world outside became isolated and disconnected, made me happy and content.
"We were discharged four days later; Simon came to collect us, and for the first time since the day of the birth got to see his sons and Zoey met her new brothers.
"Now it's still just the five of us in our little lockdown bubble. No one else having ever held the boys apart from us, introductions to friends and family via social media and Zoom.
"Apart from the first weigh in visit on day five, midwife checks were done by phone calls. No visitors, no hugs, no outings, no newborn baby photo shoots.
"No popping to the shops to get more cute clothes as they steadily start to outgrow their tiny baby clothes in the first month.
"No school runs to contend with though, and just our occasional walks in the woods near our house."
This is a glimpse of our new normal.
If you need support with weaning, routines, sleep or feeding, we're here to help. Our Family Support service offers practical support to families with twins, triplets and more. Find out more here.