9th December
If you're looking for some Christmas munchies you can make with the kids over the holidays, look no further. We've got 3 easy recipes you can try together and because you deserve it, a special one just for parents.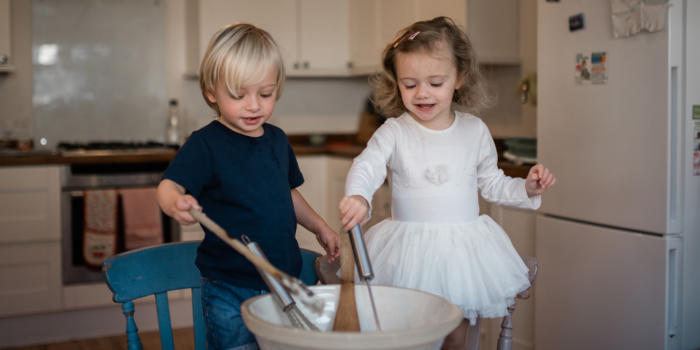 Turkey Tikka kebabs
These tasty kebabs are good for finger foods or party nibbles - the gentle spice is mild enough for kids to enjoy. Serves 2 adults and 2 children.
What you need - 4 tbsp plain yoghurt, 1 tsp mild curry powder, 1 small garlic clove, 260g turkey breast
Method
1. In a small bowl, mix the yoghurt and curry powder.
2. Peel and crush the garlic and stir it into the yoghurt.
3. Cut the meat into roughly 2cm cubes and add it to the yoghurt. Mix well.
4. Thread the coated meat onto kebab sticks.
5. Grill the kebabs, turning occasionally, until the turkey is cooked through.
6. Remove the kebab sticks and serve the cooked meat with cucumber and tomato salad, rice and mango chutney
Rudolf nose cookies
The best thing about this recipe is that it's (relatively) healthy because it's packed with porridge oats. It's just the extras that let them down. Makes 18 small cookies
What you need - 250g butter, 2/3 mug sugar, 100g glace cherries, 1 mug self-raising flour, 1.5 mugs of porridge oats
Method
1. Preheat the oven to 180C/Gas mark 4.
2. Use a spoon or fork to mix the butter and sugar together in a bowl until light and fluffy.
3. Halve the cherries and add them to the mix with the flour
4. Grease a baking tray.
5. Divide the mixture into equal pieces and roll into balls. Place on the baking tray and squash the balls down so they are a couple of centimetres thick.
6. The cookies will spread a bit when you cook so remember to leave a space between them.
7. Place the baking tray in the oven and cook for 15-20 mins. They should go golden brown.
8. Allow to cool before eating.
Christmas Pudding Rice Krispie Cakes
(Recipe adapted from bbcgoodfood.com)
What you need - 50g puffed rice, 30g chopped raisins, 50g butter, 100g milk chocolate, 30g mini marshmallows, 80g white chocolate, Icing holly leaves (can be bought or made with royal icing)
Method
1. Put the puffed rice and raisins in a bowl.
2. Put the butter, milk chocolate and marshmallows into a small saucepan. Place on a low to medium heat and stir until butter and chocolate have melted and marshmallows are just beginning to melt.
3. Pour onto puffed rice and stir until well coated. Line an egg cup with cling film. Press about a tablespoon of the mixture into an egg cup. Press firmly and them remove, peel off the cling film and place the pudding into a cake case flat side down. Repeat with the remaining mixture. Chill until firm.
4. Melt the white chocolate in a bowl over a saucepan of barely simmering water. Spoon a little chocolate over the top of each pudding and top with the icing holly leaves.
5. These can be given as presents and presented in a decorated egg box
... and once they're asleep, how about this extra-sophisticated treat from chef(and twin dad) Tom Kitchin
Plum Fool
Serves 4
What you need - 375ml red wine 3 cloves 1 orange (peel and juice) ½ teaspoon cinnamon 1 tablespoon honey 25 plums 40g sugar 20g pectin
Method (plum compote):
1. Bring everything except the plums to the boil. Simmer until reduced by half. Then dice the plums.
2. Whisk 20g of pectin mixed with 40g of sugar into the wine mixture till thickened.
3. Add the plums to the pan and continue cooking until plums are tender. Chill.
Method (plum fool):
1. In a heavy-bottom pan, bring the double cream and milk to the boil.
2. Whisk the egg yolk and caster sugar in a bowl, then add the hot milk and cream.
3. Return all ingredients to the pan, and heat gently, stirring constantly.
4. When it starts to thicken enough to coat the back of the spoon, it's ready.
5. Strain the mixture into a clean bowl and set aside to cool.
To serve: Spoon the compote into individual glasses. Layer the fool mix on top and serve with almond biscuits or shortbread.