13th December
By Alyson Chorley, Twins Trust
Years ago, BK if you like, Before Kids, many of us lived in a festive fun bubble of grown-up fun….going out whenever we wanted and having a stunningly decorated tree.
"I'll come and have a drink with you straight from work", you spontaneously used to say, or you could put Love Actually on and have a glass of wine in front of the fire at 6pm….yes you used to be able to relax between 6 pm and 8 pm, do you remember those times?
Bath and bedtime routine, peacekeeping missions between children, negotiating skills were just not required.
And BK at Christmas we were able to adorn our living rooms with beautifully co-ordinated, festive decorations reminiscent of a cosy John Lewis advert.
You placed the stunning glass bauble at the front of the tree for all to see. After all, no-one will break it. Decorations were beautiful, stylish, classy, breakable!
That pretty much goes out the window when children come along.
Babies, no problem, they can stare in awe at the tree, but once they start moving you know where they're heading.
And once they're toddlers' your tree becomes a gigantic fusion of tinsel madness and 'home-made' or rather 'nursery/school-made' decorations thanks to those crafty (and we mean Blue Peter-type crafty) nursery teachers.
Your little darlings come home with some wonderful creations, don't they? Who knew you could be so creative with a lolly stick. No, it doesn't look like a …. does it?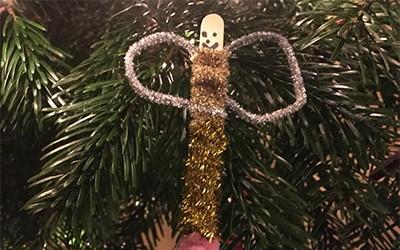 But seriously, decorations made by the kids are gorgeous and as adults, you've just got to adapt your festive ways for the starry-eyed children. Embrace the Christmas tat!
Our nine-year-old now loves finding the decorations she made when she was three and puts them in pride of place on the tree. The older ones (those cool teens) pretend they don't mind if we don't put theirs on the tree, but of course, they do!
We'd love to see your children's home-made decorations – head over to our Facebook page to share them.