23rd December 2019
Nicola's twins were due in January 2016 but they had other ideas and arrived minutes before midnight on Christmas Day, 2015
"I held both my babies, Kyle and Ellie, for the first time as the clock struck midnight and we welcomed in Christmas Day. However, the moment was bittersweet as I was devastated at missing Christmas with my eldest Chloe, who was just four at the time.
"She was amazed that Father Christmas had visited her at her Gran and Grandad's house. I'll be forever grateful to my Dad for getting presents out of our house and thankfully Chloe's bike had already been built and was in my parents' loft!
"That Christmas was crazy. I was on the ward and the twins were in special care, my daughter was at my parents' house and my husband Steven was running about between all of us.
"He ate his Christmas lunch in hospital with me and went to my parents house to have Christmas dinner with them and our daughter before returning to hospital where we spent Christmas night together as a family of five in special care.
"This was when Chloe was able to hold her brother and sister for the first time.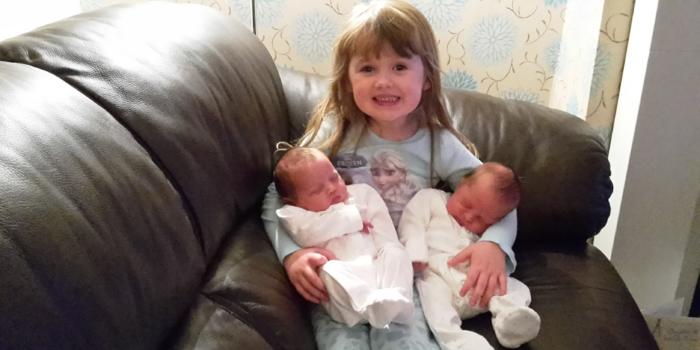 "We were able to bring the twins home on New Year's Eve.
I still get emotional thinking about missing Christmas with her, but she says it was the best ever as not every year you get two babies for Christmas!