In autumn, parents and carers are embarking on tours of their local schools, deciding which one will be best for their children.
Heading on a school tour you might have plenty of questions ready for the head teacher, whether it's about wraparound care, phonics or school dinners.
As a parent of multiples, you might have a few more questions that need answering.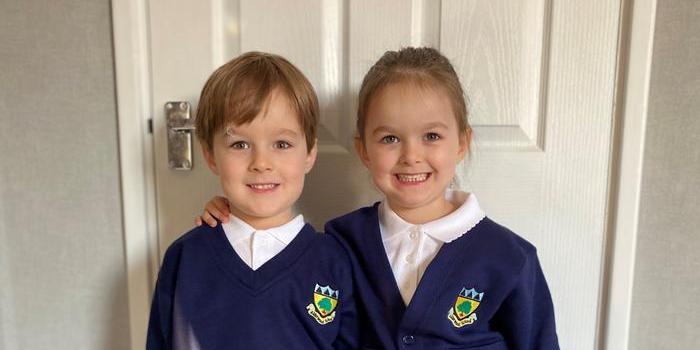 Schools shouldn't have a blanket policy to either always separate multiples or always keep them together in class.
The research conducted in the UK and internationally suggests this can have a detrimental impact on their experience and development.
At Twins Trust we supported the Hackney Learning Trust to produce guidance for schools to help them and their families to determine how to make classroom placement decisions for twins, triplets. You can find out more information here.
Here at Twins Trust we have a variety of experts who are ready to offer support when it comes to education. Whether it's pre-school, primary or secondary, we can help.
We have spoken to the staff on our support teams. They are the ones who make sure you get the right help when you need it most. We asked them for their top tips when it comes to school tours and finding out what happens with twins, triplets or more in the classroom. Many of them have twins themselves so have first-hand experience and can offer some really useful advice.
Top tips
Ask the school if they have a policy regarding multiples and if so, what is that policy?
Chat to the head teacher or another teacher and find out what experiences the school has had in the past in terms of educating twins, triplets or more? What advice and reassurance would the school give to you as a parent?
Make sure you have carefully thought through your questions before you go to the tour so you are clear about what you want to ask
Find out what the school's policy is about twins, triplets or more being together or apart in class
Ask how parents' evening works when it comes to discussing how your children are progressing
See if you can find out more about how the school promotes the individuality of twins, triplets or more
During a quiet part of the school tour, ask your questions about multiples away from a larger group. If you ask your questions at the end of the tour, you might have the opportunity to have a longer chat with staff too
You can read more about multiples at school on this page. On the same page you will find a letter which you can print and give to your headteacher if there's a blanket policy in place and you are not happy about it.
If you want to add any of your top tips to this list, email your ideas to [email protected].