Winnie the Pooh has some wise old words that we think all parents of twins, triplets or more will love.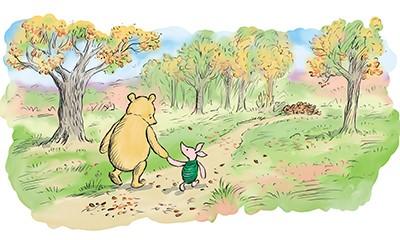 "We didn't realise we were making memories, we just knew we were having fun"
The days can seem long but the years are fast. Some days can seem a struggle but every day with twins, triplets or more is special.
"Sometimes the smallest things take up the most room in your heart."
They can seem so tiny when they are first born. Around 40% of multiples need some extra help in hospital after birth. We have a guide to support parents with twins or more in special care.
"The things that make me different are the things that make me"
From birth onwards, all children need to develop a sense of self. We have information about encouraging your children's individuality in our parenting section.
"You're braver than you believe, stronger than you seem, and smarter than you think"
Being a parent of twins, triplets or more can feel overwhelming. Sometimes you may just need a listening ear from somebody that has been in your situation, which is why we set up Twinline. Click here to find out more.
"As soon as I saw you, I knew a grand adventure was about to happen"
The arrival of your babies is so exciting. We have support to help prepare you for your grand adventure. Visit our pregnancy section for top tips and support.
"A friend is one of the nicest things you can have and one of the best things you can be"
Where would we be without our POM friends (parents of multiples). Check out our Facebook groups to virtually meet other parents of twins and more that get your daily struggles more than anyone.
And our favourite….
"A day spent with you is my favourite day. So today is my new favourite day"