26th May
What life essential could you not live without, now your twins, triplets or more are in your life?
We recently asked our supporters what thing they simply couldn't live without. From the practical (breastfeeding pillow anyone?) to the parenting luxury (a coffee and five minutes to myself) we loved all the answers and wanted to share a few.
And for those of you preparing to welcome multiples into your life, here's what other parents said were their lifelines....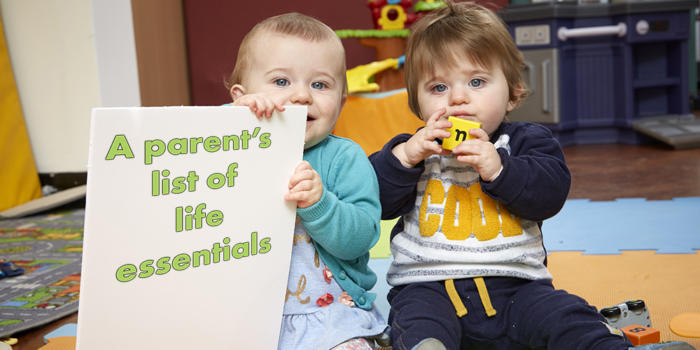 "Our play pen. A safe area to play in while you get on with the bazillion things you need to do." – Katie
"My husband for sure! And a feeding schedule. We're three months in and apart from the first feed of the day we know exactly when to prepare." – Ellie. If you need help to get feeding on track, click here.
"My own bed." – Jovan
"A sense of humour. And my husband." – Linzi
"Discount on Clarks." – Katy. We're with you Katy. If you want to access this and loads of other discounts and offers at top brands, click here. Although, Clarks is currently closed due to the COVID-19 pandemic, many of our discounts can still be used online. Just look for the discount code in the details.
"Routine and planning. And as they grow older, the confidence to accept that being flexible and just letting things happen sometimes is okay. Also coffee. And time for a bit of relaxation, which I wish I had found sooner." – Shelley. If you're a parent of multiples in secondary school or older, click here for more support.
"Some kind of bouncy chair or oscillating chair. And later on the heaven-sent jumperoo." – Carla
"The car." – Michael
"My breastfeeding pillow." – Julia
"My microwave steriliser, bouncy chairs and changing table. Absolute essentials. Back then and since, my husband, the in-laws and all my friends who've been there to listen and offer helpful advice and an extra pair of hands at feed times." – Clare. If you'd like another listener to be there for you too, our Twinline service is answered by volunteer multiples parents. Call 0800 138 0509 10am-1pm and 7pm-10pm on weekdays or email [email protected]
"A travel mug so I could have a warm cup of tea." – Kas
"Their favourite TV show." – Victoria
"Chocolate." – Sharon
"Side-by-side lightweight buggy." – Matt
"The camera. It allowed me to record, capture and watch moments to cherish that my harried memory would otherwise have lost." – Rachel.
"Supermarket shopping delivery." – Samantha
"My jogging stroller with bike tyres. Always an adventure with the twins." – Tiana.
"Coffee, cake, chocolate and sugar." – Lynn
"Nursery." – Sonya
"The buggy." – Karen
"A cup of tea and a biscuit." – Lisa
And all the amazing family…..
"Grandparents." – Helen. "My mum." – Rebecca. "My mum." – Sam. "My husband, my parents and my in-laws." – Hannah. "My husband and my twin boys." – Jennifer. "My children." – Danielle. "My other half and my nine-year-old – they're both amazing help." – Holly.

We can't wait to be reunited with family and friends when all of this is over!