Parents Olivia and Abz Musa were looking forward to the birth of their identical twin girls but were naturally unprepared for their arrival during the midst of a global pandemic.
However, the couple from Morden in South London, want to reassure expectant parents of twins or triplets that they felt safe and looked after throughout.
NHS staff have adapted the way they work to battle the disease and keep everyone safe. But with many postnatal services being cut as staff are diverted to help with the pandemic, or off sick themselves, Twins Trust is also on hand to help.
The charity's Family Crisis Support service sees trained nannies from the Norland Agency volunteer their time to provide help to families in hospital, or at home with their new babies, by providing remote support on feeding, bathing, bonding and crying.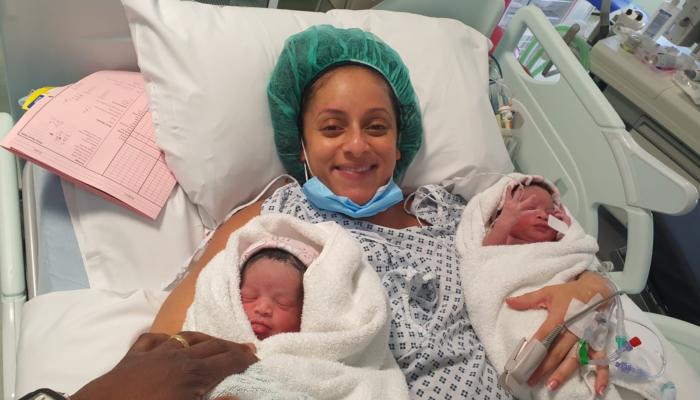 Abz and his family are now safely at home and coping well, despite not being able to see friends and some close family members.
"That's tough, not being able to see the people who we know would be round here enjoying seeing the babies," said Abz, whose girls were born at St George's University Hospital, "but you just have to get on with things and stick to the rules to stay safe.
"Saying that, I was probably more nervous about the c-section than I was about Covid-19 because our first daughter was a natural birth.
"We knew the hospital, so it felt familiar and we were both confident that all the precautions were being taken to keep everybody safe and well."
Abz, who owns an office cleaning company and is a part-time DJ, admitted feeling shocked when they found out last year that Olivia was expecting again just four months after their daughter Nalah was born.
"Then to find out it was twins, well, that was a whole other level of shock!" said Abz.
"Olivia was sailing through the pregnancy, only getting a bit uncomfortable during the last two weeks, but then when Covid-19 came along that was obviously a bit of a concern."
Olivia was booked in for a c-section on Friday April 3 so right in the middle of lockdown and at a time when the death rate from Covid-19 was nearing peak levels.
The couple said they tried to stay calm and relaxed about the situation, confident that everyone at St George's would be well prepared.
"All the doctors and midwives there were in full PPE so they were taking all kinds of precautions and I'd already been told that I could be there for the birth but had to go home straight after, so I had some time to get used to that."
Twins Sade and Mallie were delivered by Professor Asma Khalil and weighed 5lb 2 and 4lb 8 so didn't need neonatal care.
"It was sad leaving Olivia and the girls behind, but she was in such safe hands that I felt happy."
The couple are full of praise for specialist multiple midwife Debbie who encouraged Olivia to ring the bell at any time for help and that nothing was too much trouble.
Olivia, who works in Andrology at St Helier Hospital in Surrey, said: "The care was brilliant, and we came home three days later. We have received support from the midwife and health visitor and the girls are breastfeeding really well. We feel blessed."
Professor Asma Khalil said: "Despite the unprecedented challenging times we are going through, we should always do our best to ensure that pregnant mothers and their partners have the safest and best experience during very special times in their lives; the birth of their babies."