25th October 2019
"It was the happiest moment of my life." "I felt like I'd won the lottery." "My husband's face was priceless..."
Finding out you're going to be a parent is the most memorable feeling in the world. Finding out you're going to be a parent of multiples is even more amazing. (We're biased.) How many emotions ran through your head on that fateful day? Excitement? Nerves? Joy?
We recently asked our Facebook followers about that momentous moment in the scan room. It seems on many occasions the sonographer was just as surprised as you were to hear two heartbeats on the monitor. Oh no wait, is that three?
So we've shared some of the responses here for you now. Grab the tissues!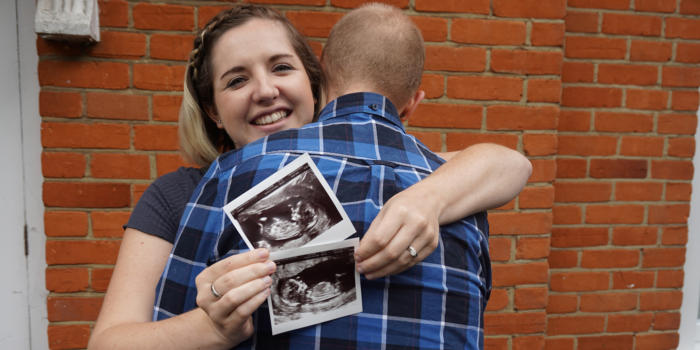 "I was winding my husband up that it was going to be twins while we were in the waiting room. During the scan the sonographer remained quiet and then she had a little smirk and turned the screen around. She said 'I'll just show you them'. The look on my husband's face was priceless and I was going between laughing and crying. Best feeling ever!" – Debbie
"After four years of trying and three ICSIs, that day I shall never forget at our seven-week scan being told there were two little hearts beating away. Now they are turning three in January and still don't give me a full night's sleep but I wouldn't change it for the world." – Deniece
"We cried. We both felt like we had won the lottery." – Jackie
"At our 12-week scan the sonographer said: 'Right, here they are'. I said: 'What?' and she replied: 'Did you not know you were having twins?' Well, we did then…It took weeks for it to sink in, but wouldn't change it for the world now." – Michael
"It was our seventh IVF transfer and we knew we had two embryos put back. I had a scan at five-and-a-half weeks which showed two sacs but I then had a heavy bleed and thought I had lost at least one, possibly both. When I had a second scan a week later and saw two heartbeats it was the happiest moment of my life." – Sarah
"I hyperventilated and then threw up. I wouldn't change my little guys for the world now though. It is just such a shock." – Niki
"I swore, burst into tears and said: 'How are we going to cope?' But 2.5 years later, we did and they're absolutely amazing. Twins are such a blessing." – Caroline
"I found out at an early scan I was having triplets. I actually thought I had miscarried at the time so I had prepared myself. I got into the room, they scanned me and I said: 'Wow, is that twins?' and the nurse turned around and said: 'No, you're having triplets'. I couldn't decide whether to laugh or cry, so I did both." – Michelle
"I seriously thought they were playing a joke on me…then they showed me the screen." – Vanessa
"My world collapsed in a moment with feelings of being entirely overwhelmed and inadequate. Fortunately, those feelings vanished as soon as I held them in my arms." – Jess
"Shock. Then horror. Then panic. Then joy." – Fran
"The doctor doing the scan must have said 'Here's the first one' but we didn't hear it, we were just gazing amazed at the screen to see a healthy baby. Then the doctor said: 'And here's the second one'. That's when the penny dropped. We both turned wide-eyed to look at each other – didn't know whether to laugh or cry. It was truly amazing. Though I did spend the rest of the day in shock, one-minute thinking 'twins – amazing' the next 'oh my God how will I cope, how can we afford it etc'. They're now five-and-a-half and I wouldn't have it any other way." – Victoria
If you've just found out you're expecting multiples you've come to the right place! Start here for the whole lowdown on pregnancy with more than one.