11th Feburary 2021
Bristol mum Portia Richardson hopes sharing her journey of successfully giving birth to Monochorionic Monoamniotic (MCMA) twins will help reassure other families.
India and Mila are now six months old and thriving at home with Portia and dad Alex.
This rare type of identical twins not only share a placenta, but also share the same amniotic sac and sadly carry a higher risk of complications, such as miscarriage, stillbirth, fetal anomalies than identical twins, but also have a risk of cord entanglement.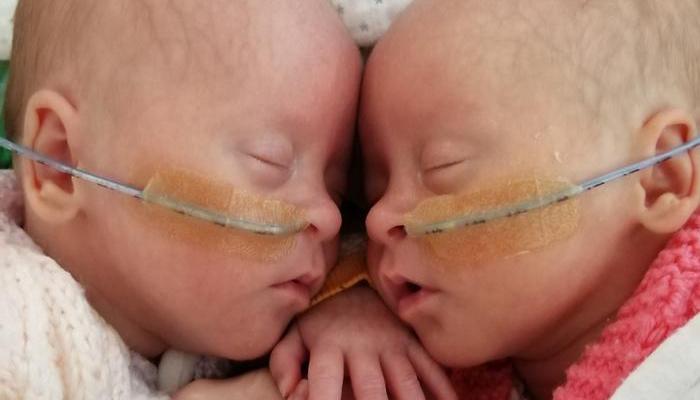 "I had an early scan at eight weeks when we found out it was twins, which was a huge shock but we were so delighted as I had polycystic ovary syndrome and had been told getting pregnant might be difficult," said Portia.
"At the 16-week scan, which my husband Alex wasn't allowed to attend because of the Covid pandemic, I was told it was an MCMA pregnancy and learned about all the risks attached to this. This is where I think they thought they'd soften the blow by also telling me that we were having girls.
Being alone and hearing that was very hard to take in but I was excited to tell Alex we were having girls. I then immediately went home and Googled everything, which you shouldn't do!
"But this is where I discovered it was just so rare and could not find much information about it from this country. I did know these type of twin pregnancies could result in a high mortality rate."
Portia was immediately transferred to the fetal medicine department at Southmead Hospital and was scanned every two weeks.
"I felt in good hands and reassured by the care I was getting and the number of scans I was having. It was difficult going to them without Alex with me. He was allowed in to the 20-week scan which was great.
"The two weeks between every scan was difficult; I tried to relax as much as possible and not worry, but it was hard."
At 28 weeks Mila was not growing at the rate she should be, but Portia was told to carry on.
At 30 weeks the scan showed no fluid was left between the babies and Portia was given steroids to help develop the girls' lungs.
The original plan had been to deliver them at 32 weeks, but at 30 weeks +6 a decision was made to have a c-section.
India was 3lb 2 and Mila 2lb 9 and born on August 12.
"As we were out of lockdown we were both able to be with them in neonatal whenever we wanted. They were in intensive care at first, moved to high dependency then special care spending just six weeks in hospital.
"We brought them home on September 25 and had actually stayed the day and night before with them in hospital, which was Alex's 30th birthday.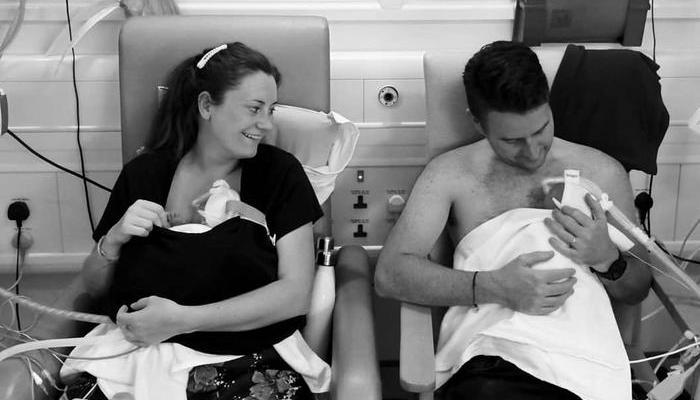 "The nurses were happy that we could cope with the tube feeding having watched us during the night and it was great to finally get them home.
"We are still under the care of the neonatal team who have been brilliant and supportive throughout."
It hasn't all been plain sailing as Portia was diagnosed with post-natal depression in November and the girls developed serious reflux.
"I'm feeling much better now and we've started weaning the girls – India is very happy about that, Mila, not so much!
I feel we've come through a scary pregnancy during a global pandemic and we're so grateful to the medical teams for getting us to where we are.
MCMA pregnancies carry the highest level of potential complications out of all twin pregnancies with 70-80% ending in perinatal mortality.
However, they are very rare and due to the small numbers, there is insufficient evidence to establish the best way to manage these twins, and further research is required in this area. At the Twins Trust Centre for Research and Clinical Excellence at St George's Hospital MCMA twins are covered in both the Registry and in the Twins-RF study https://twinstrust.org/who-we-are/what-we-do/research/clinical-research/twins-rf.html