6th July 2021
Early on in her pregnancy, twin mum Jen from Bradford was told she probably wouldn't carry the twins to term because of a medical procedure she'd had some years before.
After hearing this news and feeling anxious, it was down to her 'wonderful' Multiple Births Midwife Caroline Lamb who helped her feel a lot more relaxed through her pregnancy and birth.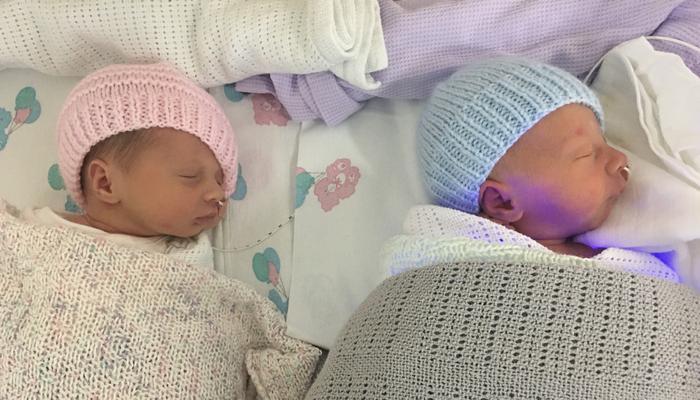 "This was my fifth round of IVF following lots of fertility issues and three miscarriages but Caroline was so kind, caring and reassuring from the start which enabled me to feel calm and happy and look forward to the birth of my twins."
Henry and Lily are now 18 months and Jen has decided to stay home with them until they start pre-school.
"Even this short amount of time has flown by so I am determined to enjoy every minute!" said Jen.
"I've made some lifelong friends thanks to the multiple birth classes Caroline set up. She was always there to answer questions, and we certainly had lots!
"This was pre-Covid, but those classes were a lifeline. She didn't mind if my husband Pete came with me, or my mum.
"She never stopped smiling and was just an absolute rock for me throughout. I was petrified about the birth, which I think I would have been if it was a singleton, but having two was more to think about and worry about.
"She explained everything in such a calm and reassuring way, even repeating answers to questions I think I'd already asked!"
Jen's waters broke suddenly and she was in hospital for a week before the babies came.
"Caroline came to visit me in hospital after her shift, just for a catch up and to make sure everything was OK. She didn't have to do that, but it was so lovely that she did."
At 36 weeks the twins arrived, Henry came out first and then Lily arrived by emergency c-section.
They were just over 4lbs each so needed a bit of help feeding but were home just a couple of weeks later.
"I can't stress how much having a midwife who was experienced in multiple births helped me. You kind of assume it's like this for everyone, but I'm not sure it is.
I certainly hope more NHS Hospitals employ Multiple Birth Midwives and establish Twins Clinics – it will make a huge different to families.
Twin clinics provide specialist maternity care for women expecting twins, triplets or more.
As there are higher risks and complications associated with twin or triplet pregnancies it is important that you receive specialist maternity care. This includes more appointments and scans and increased contact with specialist healthcare professionals during your pregnancy.
We have a list of hospitals that operate twins clinics. Please get in touch with us on [email protected] if you cannot find a specific hospital or have any feedback on a hospital you attend during your pregnancy.