14th February
Over a candlelit meal last Valentine's Day the last thing Liz Wiezak expected was to spend the night in a hospital gown.
Liz and husband Carl were looking forward to their romantic night out, which also fell on Liz's 35th birthday.
"I'd just started my maternity leave, it was my birthday and we were so excited about the twins," said Liz, "and we couldn't wait to have a lovely romantic meal together and talk about the future."
But romance was off the table as Liz received an urgent phonecall from Leicester Royal Infirmary telling her to get to hospital as soon as possible. She had developed pre-eclampsia.
On Valentine's Day last year the couple spent the night in the delivery suite of the Leicester Leicester Royal Infirmary.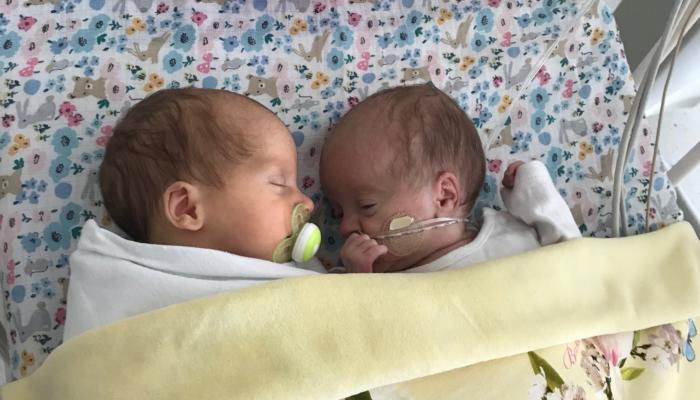 "My blood pressure had sky rocketed to 198/98 and following two painful steroid injections we came very close to having 28 week old twins," said Liz.

"In those scary 12 hours they controlled my blood pressure so it was as stable as possible and I spent the next two weeks in hospital. During that time my twin girls progress was closely monitored.
"The tipping point came when twin two had placental and cord problems and regardless of being 10 weeks early, had a better chance of survival in the outside world."
Twins Jessica and May were born via a c-section on February 24th. Jessica arrived at 7:35pm and was 3lb 4oz and little May arrived just two minutes later weighing 2lb 2oz. Their due date was May 4th.
Tiny but perfect, they needed help with breathing, feeding, maintaining their body temperatures and fighting off various infections in their first few weeks of their life.
Liz said: "Every day was full of more worry than anyone should endure in a lifetime. Jessica spent seven weeks in hospital with an extra four visiting her twin sister who stayed for a total of 11 weeks.

"The day after we brought Jessica home, May became very poorly and went from special care back to intensive care which was just heartbreaking.
"She had something all parents of premature babies dread, suspected NEC (Necrotizing enterocolitis - a devastating disease that affects mostly the intestine of premature babies).
"Pumped full of various antibiotics, she fought the infection following a period of being nil by mouth. When we thought the worse was over, she developed another infection when her long line, the cannula used to give fluid and nutrients, was removed. During her hospital stay she had three blood transfusions, a platelet transfusion and spent 9 weeks on oxygen support.
"But she's feisty and against the odds she got better and eventually came home so we could start our lives together as a family of four.

"This was when the fun really started...!
"We have so much love and gratitude for all of the doctors and nurses who cared for us all at Leicester Royal Infirmary. Without them and their amazing neonatal facility our girls wouldn't be here today."