Can you help other families this Christmas? This Christmas we're asking you to be part of our Families Helping Families Appeal
Imagine if your first Christmas with your new babies just wasn't as you expected it to be.
Instead of having your newborn bundles with you at home, ready to meet all the relatives during the joys of Christmas, you were actually in the neonatal unit at your local hospital.
That's what happened for parents Caitlin and Dave when their twins arrived prematurely in December 2019.
It's families like Caitlin and Dave's who need your help now, more than ever.
Twins Trust is a charity and we rely heavily on the generous support of our members to keep running.
We need your donations to keep our vital services going.
From being at the end of the phone via our Twinline service to campaigning about important issues for our parents, every penny we raise is crucial to our future.
Caitlin has shared the rollercoaster of her journey into parenthood. She has spoken about her fundraising to give back to those who helped her family and how Twins Trust has been able to support her.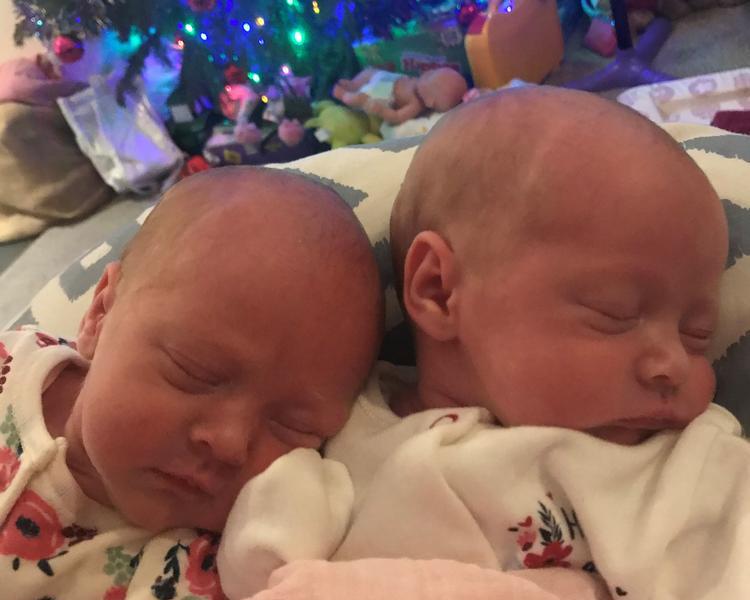 Christmas is a particularly poignant time for Caitlin, Dave and their family. With the premature arrival of their twins, they spent their very first Christmas as a family in NICU.
Then last year as the Government brought in last minute restrictions because of Covid, Christmas wasn't the same.
"So technically it will be our girls' third Christmas. We class it as their second as they were born on 15 December 2019 and spent their first Christmas in the neonatal unit on the Isle of Man.
We didn't get to spend it with them how we wished.
Their first Christmas was very different as the sisters spent it in hospital, after serious complications with Twin-to-Twin Transfusion Syndrome (TTTS) during mum Caitlin's pregnancy.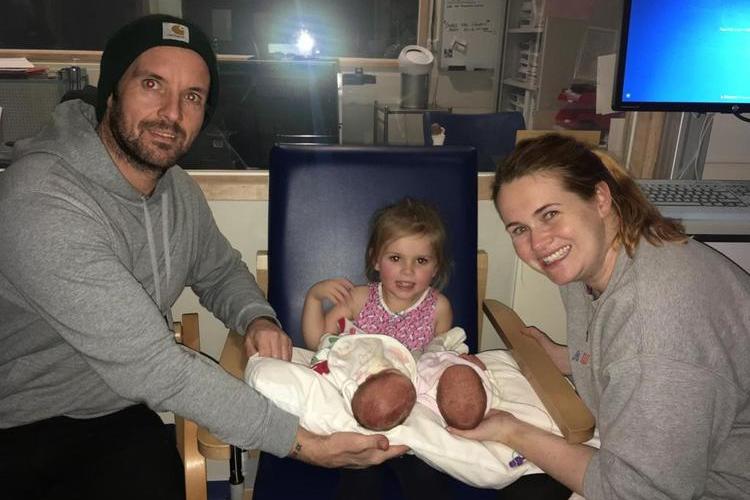 Caitlin is now passionate about raising awareness about TTTS, a condition she was unaware of until her twin pregnancy.
Caitlin took part in the Twins Trust 10km walk for TTTS with family members in August last year. She raised money to fund research at Twins Trust Centre for Research and Clinical Excellence to help save twin babies' lives.
If you meet Caitlin, she's sure to tell you about Twins Trust and how families help families through the journey of parenting multiples.
"I had TTTS and had to be urgently flown by air ambulance from the Isle of Man to the UK for emergency surgery on them at 23 weeks pregnant.
"They were born at 33 weeks and spent two weeks in the neonatal unit."
When Caitlin and her partner Dave Barron went for their first scan, the dad-to-be was first to spot not one, but two foetuses on the sonographer's screen.
At the second scan, the sonographer told the parents-to-be a second opinion was needed.
Caitlin said: "My heart sunk and I burst into tears. The gynaecologist came into the room and explained it was the start of TTTS."
At this stage, Caitlin and Dave were told about the fluid surrounding the babies. A plan was put in place for Caitlin to travel to Liverpool Women's NHS Foundation Trust just a few days after the second scan on the following Monday.
But, at 21 weeks pregnant, Caitlin was urgently transferred by air ambulance to Liverpool so that emergency surgery could take place.
Caitlin said: "When I got there I had a scan every day. It was a case of not if but when I would have to have surgery. They didn't want to do surgery if the babies were not viable as they probably wouldn't survive. They wanted to leave it to the last possible chance. Every day the survival rate goes up.
"I threw up at every scan. I was so, so nervous."
The situation worsened for the twins and the fluid around them increased. Doctors decided that Caitlin needed to go to London urgently for specialist life-saving surgery for the twins. She was given a pessary to prevent her giving birth at that stage.
She was 23 weeks pregnant when the surgery took place.
The surgery was successful and Caitlin and her mum found a hotel for the night. They travelled back to Liverpool where the mum-to-be was carefully monitored again before returning home to the Isle of Man.
It was a chilly December evening when Dave headed off for his work Christmas party, while heavily pregnant Caitlin stayed the night at her mum's with Sylvie.
Her waters broke and the race was on to make sure dad Dave made it in time for the birth. Luckily, he did.
At 8.31pm on December 15, 2019, dominant twin Juno made her entrance, followed by sister Mabel at 8.32am.
The twins were immediately transferred to the hospital's special care baby unit.
I didn't get to see them. They were put into incubators as they needed a bit of help breathing and tube feeding.
"We all came home New Year's Eve 2019, we got to bring in 2020 with them, which was really nice," Caitlin added.
This Christmas will be extra special as they enjoy their second Christmas at home as a family – this time with visits from relatives and friends.
Caitlin said: "This year we are really looking forward to Christmas as the twins will understand it more with all the toys and the music and Santa and Sylvie is excited for them."
During December we'll be sharing some festive thoughts and stories on our website and social media about how families are helping families.
How to Donate
We urgently need your help to continue offering support to families with twins, triplets or more.
Maybe you haven't had to use one of our services, but if you do, we will be here for you.
We know times are tough, but please consider donating what you can to support our work in 2022 and help families like Caitlin's to get the support they need this Christmas and in the future.