'It's frightening when your babies arrive prematurely. You're not prepared mentally or physically'
This is how any parent would feel having their babies prematurely in normal circumstances but with the added complications of the Coronavirus restrictions, this added more stress and uncertainty for Lucy.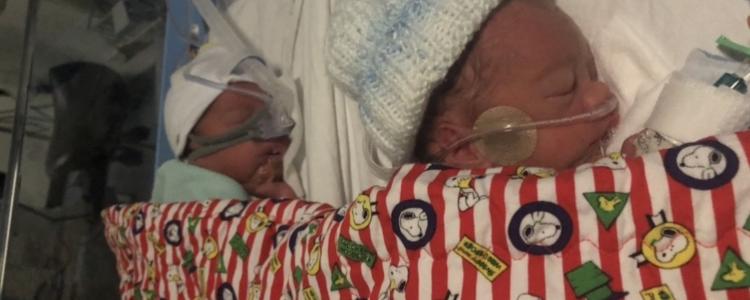 Please help support more families like Lucy's

Lucy was in hospital from 33 weeks due to pre-eclampsia. At 33 weeks + 4 days Lucy had to have an emergency c-section. Lucy and Justin's beautiful baby boys Cole and Liam arrived on 5th March. The babies were taken straight to neonatal care as they needed some extra help with their breathing due to them being born so early.
Lucy spent 10 days in hospital and during her hospital stay was able to see her baby boys in neonatal care.
Lucy was discharged from hospital after 10 days but the babies had to stay in neonatal care. 'Leaving hospital without my babies was heartbreaking but I knew they needed the extra support and care'
While at home Lucy developed a cough and was told by healthcare professionals that as per government guidelines she would need to self-isolate and wouldn't be able to visit her babies for 7 days.
I was so upset, I just wanted to be with my babies. I just wanted to touch them and talk to them and make sure they were ok
Lucy, absolutely devastated not to be able to see her babies got in touch with our Scottish Co-ordinator, Helen Peck for help. Helen immediately got in touch with the hospital to see how she could help Lucy.
Helen spoke to a consultant and outlined the situation. Helen asked if it was possible for one of the staff to face time/video call Lucy from the neonatal ward. Due to safeguarding rules, this wasn't possible. However, the neonatal consultant was keen to help and spoke to the health visiting team. They said they would be able to visit the babies in hospital and video call Lucy.
On day 6 of Lucy's self isolation, she developed a fever due to mastitis. The hospital advised that Lucy would need to continue to self isolate for another 8 days.
6 days had passed and I hadn't been able to see my babies. Words can't explain how I felt – I felt numb, sad and upset. I wanted my babies to know I was there, I wanted them to hear my voice
Helen kept in touch with the hospital and Lucy throughout. Helen said 'I was desperate for Lucy and Justin to see their babies. I can't imagine how they must have been feeling'
Finally, Helen had an email from Lucy to say that the Health Visitor had been into the hospital and facetimed Lucy so she could see her babies.
'I can't tell you how much it meant to me to be able to see our babies on the camera'.
Lucy said 'thanks so much to Helen for supporting me through this difficult time, I can't thank you enough. I was so upset I was unable to think clearly which is why I'm so thankful that Helen took over the liaison with the hospital'
Once Lucy had completed the isolation period, she was able to visit her boys in neonatal care again. There were strict rules about visiting the babies. Only one parent was allowed to visit a day and once you left you weren't allowed back in for the day. 'I was the only person allowed to stay with the babies overnight. There wasn't any access to the family rooms as these were used for babies that developed COVID-19 so I had to stay in one of the neonatal rooms and couldn't even go upstairs to shower or get food. I could not leave the neonatal the whole two days I was there. Justin struggled a lot especially for the 2 days I was with them and he was at home alone'
When we were discharged from hospital Justin wasn't allowed into the unit to collect us. The car seats had to be collected from Justin and disinfected before we could go'
Now Lucy and Justin and their beautiful baby boys are doing very well at home and are over the moon to be together as a family.
Right now, it's such a challenging time to become a parent. We don't want any Mum to feel alone. Help Mums like Lucy to have the support they need by donating to our appeal.