Be inspired by Captain Tom's 100 laps to do your own '100' challenge for Twins Trust
We've all been inspired by the wonderful Captain Tom and his incredible fundraising over the last year.
Twins Trust are proud to join the 'Captain Tom 100' fundraising initiative from 30 April to 1 May. This is being organised by his family, on what would have been his 101st birthday weekend, to benefit all charities.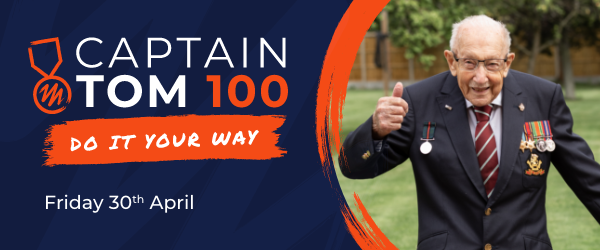 Join our Captain Tom 100 fundraising team
We want you to do a challenge based on the number 100 during that weekend, inspired by Captain Tom's famous 100 sponsored laps of his garden.
This could be a sporty challenge, a mammoth baking session, a crafty project, a musical marathon or perhaps something quirky that's completely different. The choice is yours, so have fun as you fundraise!
You will be raising much-needed funds to support Twins Trust's vital research into improving pregnancy care for multiple births, and our wide-ranging support services for families.
Find out more about Captain Tom's 100 here and help us to ensure that – in Captain Tom's own catchphrase - 'Tomorrow will be a good day' for our community of families with twins, triplets and more.
To join us for this wonderful event, set up your fundraising page here. If you'd rather donate to the cause, please click here.
Please contact Lucie Wigley in our Fundraising Team on [email protected] to share your fundraising plans, to ask for any advice, support or inspiration you need and get your Twins Trust t-shirt!