Coping when one or more of your babies are poorly can be a real challenge. At one level, the same basic rules apply as for all babies: trust your instinct (you know your babies better than anyone), but when two or more are ill at the same time, it is hard is to know how to divide yourself between them. Or it may be that as soon as one baby gets better, the next baby gets ill and you find yourself feeling bogged down in a spiral of sickness.
Routine is often very helpful when you have multiples as it helps you to be able to cope on a day to day basis. However, it may be that you have to adapt your routine when the babies are ill. Often babies who feel unwell just want to be cuddled: try not to worry about sticking to the same routine that you would if they were well as, for example you may find that they need to sleep more and may not be as hungry as normal.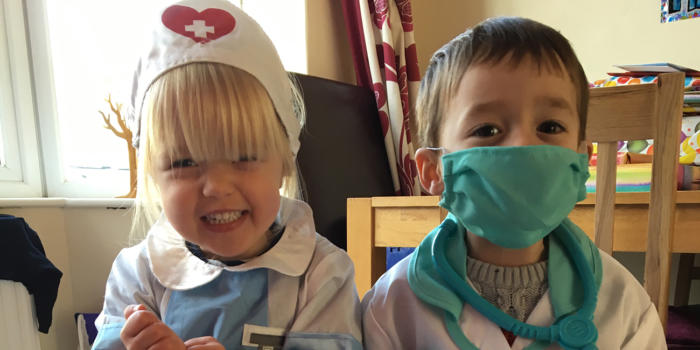 When your babies are poorly it is important to monitor them, keep them hydrated and never hesitate to ring your local surgery if you are worried about one or more of them.
Getting out of the house to go to the doctor when one or more of your babies is poorly is even more of a challenge than usual. Most healthcare professionals will understand this and will try and see infants at the start of surgery or make other arrangements. You can also request a home visit if you think it's necessary.
A parent of triplets told us: "[when the babies are poorly] we try to focus on the essentials – food, sleep (when you can) and trying to keep whoever is unwell as comfy as possible. We always try to have our freezer stocked with some good basics and plenty of children's paracetamol / ibuprofen in stock. We do call on friends at times of real need and they have always been amazing. We try and repay them when things are back to normal – have them for a meal, children for playtime etc."
When winter arrives and the heating turns up, cold and flu season begins. Premature babies can find it difficult to fight off coughs and colds, and multiples are particularly at risk with half of twin pregnancies and 98.5 per cent of triplets born before full term.
As well as working to raise awareness of RSV, Tamba has partnered with a number of other UK charities to promote the More Than a Cold campaign. For more information, click on the guides below so you can recognise when it's more than a cold.
Download the More Than a Cold factsheet to know the signs of it being more than a cold.