It's a good habit to turn off the TV and radio for at least an hour a day so babies can listen to background noise with no distractions. Try to look at books with the babies individually, and address comments to the babies using their names and making eye contact.
Talk and sing to your babies while you do activities. Use nursery rhymes and bedtime stories to expand vocabulary and to develop a feel for the rhythms of language. Whenever you can, share picture books with each child individually, let the others look on but concentrate on one at a time.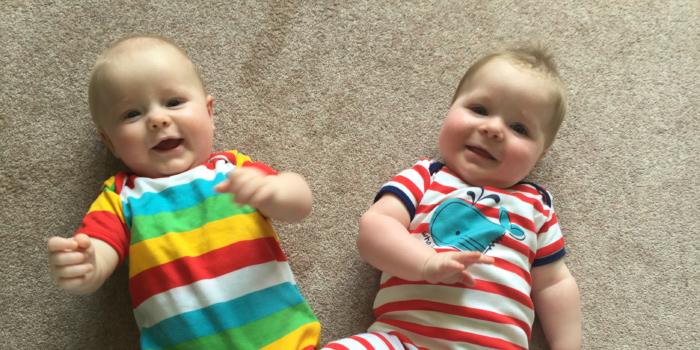 Taking your babies out for walks and to groups also provides them the opportunity to be exposed to more experiences and in turn language. Some families find introducing baby signing can help with communication with your babies and relieves frustration when your babies are trying to communicate something to you but don't yet have the words.
Talking to your babies throughout the day, explaining what you are doing – even if it is sorting the washing – all helps with your babies hearing words and tone which then encourages them to practice their speaking, even if it is a babble to start with.