While one in ten mothers of singletons suffers from postnatal depression (PND), the stats show that rates are slightly higher among mothers of multiples.
Understandably mothers of multiples have increased demands put upon them by virtue of the practical needs of more than one baby met by limited resources, you are only human. If you have an underlying vulnerability to developing a postnatal illness, this increased stress may trigger it. Likewise, any life-changing and stressful event could have a similar effect.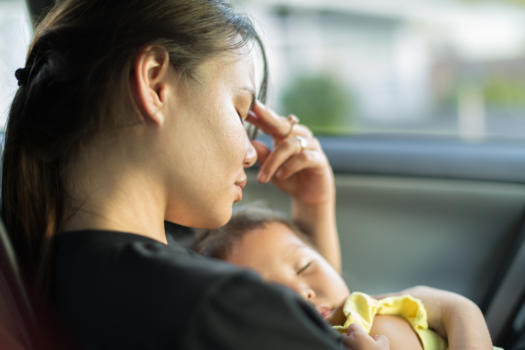 Fathers can also suffer PND, especially fathers of multiples who may be both sleep-deprived and working full-time. Studies of parental sleep have found fathers of multiples are the group most affected by sleep deprivation in the initial months.
If you think you might be suffering from PND, please do get help. Talk to your midwife or doctor about how you are feeling, as well as friends or family. You can also ring Twins Trust's freephone helpline Twinline on 0800 138 0509. Twins Trust has produced a Guide on Postnatal Depression especially for parents of multiples. It is full of helpful information, including stories from parents who have come through PND.
However tough it gets, PND does not last forever and need not blight the early years with your children. Access help, and try to get out of the house every day. Connecting with other parents of multiples can also be hugely beneficial for your emotional wellbeing. Click here to find your nearest twins club, where other parents may have experienced what you are dealing with and can provide understanding and support.
Hear mums and dads of multiples share their experiences of PND.