By Dr Vicki Wolfe
I am a Child & Educational Psychologist, though you wouldn't believe it seeing me knee deep in lockdown chaos with my 3 sons (7 year old twins and a 2 year old). I know many of us are struggling with balancing home-schooling, looking after younger children, work, caring for others etc – and it's not easy. At all.
As a psychologist, I know perfectly well how I should be engaging, interacting and playing with my children. However, I simply can't apply these principles consistently in the current context. Many people who I have spoken to recently feel the same way. It's frustrating when we have the knowledge and tools to create happy healthy home environments where we all thrive (most of the time), but the context at the moment is not very conducive to this. I've realised that the key is to lower certain expectations. Easy right?
I thought I would utilise some psychological theory and evidence-based research findings to outline a few ideas for keeping sane during these challenging times – and with any luck I might even take some of my own advice. I'll start with just a few general principles for wellbeing, and then include some educational strategies that may help to navigate through the home-schooling storm more smoothly.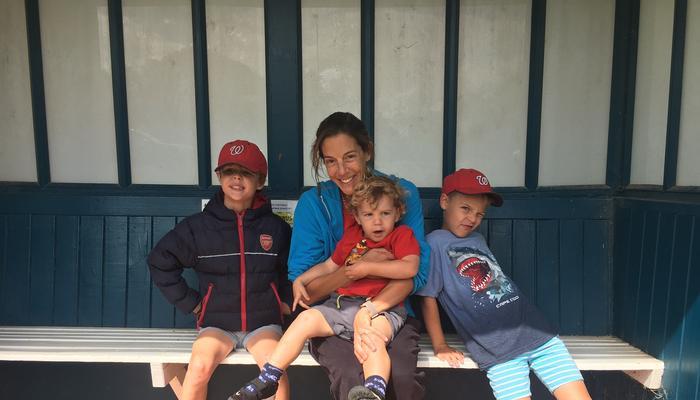 Notice the order of these, looking after yourself first and foremost…:
Fill your own cup – first. I mean this metaphorically & literally. When I actually stop and give myself a drink and a bowl of cereal or other bite of yummy breakfast goodness whilst I'm feeding the kids, those days are generally better. Make sure you get your morning cuppa, and some brekky as soon as possible after waking up. You can't pour from an empty cup after all (metaphorically and literally!)
Allow yourself some proper self-care, somehow. Obviously, this is not easy to manage -particularly with twins, triplets and more, and if you are predominantly managing them all on your own. There are small things you can do though to give yourself a break - instead of doing chores - whilst the kids are safely entertained. For example, whilst they are are watching tv (I mean reading their books and doing their homework, obviously), you could read a few pages of your own book (with a 'do not disturb unless in an emergency' sign taped to your forehead), have a quick chat to a pal, do a crazy dance to your favourite songs for 10 minutes to get the positive hormones flowing, or take a quick walk or run if there's another grown-up around to supervise. I have discovered that 20-minutes in the fresh air speaking to a buddy does wonders to improve my mood, and gives me strength for the rest of the day.
Divide and conquer. Again, this may be very difficult especially if you are a sole parent and managing twins, triplets and more, but there are small things you can do to break up the less desirable dynamics between multiples and other children. For example, asking one or more of them to build an obstacle course for the other(s), design a treasure hunt or hide and seek game in the house or outside if you have space. Giving them jobs is also remarkably helpful, and therapeutic in some ways. I begrudgingly did all of the chores in our house before realising that my older boys actually enjoyed helping me, and we even chatted about cool stuff whilst doing them (thanks to the 'Raising Boys' author Steve Biddulph for the inspiration here).
Try to have a calm bedtime, whatever craziness has happened during the day. It's amazing what a powerful role hugs and stories can play on improving an otherwise hideous day. Even just 5 calm minutes at the end of the day, where the kids feel relaxed and reminded that they are loved, can help them to completely forget any unpleasantness that may have happened during the day.
Lower expectations (well, some of them). I don't mean that we should lower the expectations we have for our children's behaviour, including manners, courtesy and kindness. However, I have noticed that when I lower the expectations about what I can reasonably expect of myself as a working parent of 3 children during lockdown, I generally feel better about my achievements during the day. Then I seem to generally feel more positive about my ungrateful children!
Now for a few educational strategies. These are just some general principles based on a variety of psychological learning theories. They do not pertain to any particular learning difficulties or diagnoses, but are general principles to help motivate the kids (and carers!) throughout lockdown:
Make it personal – Try to think of meaningful words and thoughts to link to the concept you are trying to teach them. Every time you mention a significant word (a football player, musician, character from a book for example), this brings the child back to the here and now – and helps to ground their learning in reality, and consolidate their learning further.
Catch them being good – I'm not great at this one, much easier to catch them being bad I say! Honestly though, catching them being helpful, being kind, being generous or doing good listening for example, are all great ways to boost their self-confidence which puts them in a better frame of mind for learning.
Praise their behaviour, their effort and the processes they put into learning – not the output. I find it difficult not to say 'well done, you're so clever' and instead say 'well done, you've tried so hard and look at how that hard work has paid off'! However, praising the processes involved in learning helps the child to understand that it's not just the end result that's important – but the journey. I think this is a nice life lesson too.
Be specific with praise – Try to think of very specific things to feed back to your child, with examples. This is especially important with twins, triplets and more, so that they appreciate their own strengths – which may well differ from their siblings. So, you could say 'I love how you worked really well with your brother/sister there, and showed them how to work the toaster without breaking it – what a great big brother you are'. Children seem to respond better to praise that is specific, it seems to mean more to them – and they tend to remember it, and it can spur on further good behaviour (usually!). To find out more about the importance of individuality, and how you can promote it from the very early days, please visit our Individuality page
Be curious – Listen to your child's stories and recall them back to them. It's a powerful way of showing them that you've not only listened to them, but really heard them. This is empowering for them, and boosts their wellbeing (and our own).
Please go easy on yourselves in these challenging times, we are aiming for 'good enough' right now. Big-up your partners, friends, family and anyone around you – we are all struggling at the moment in different ways, and a little praise can go a long way.

Dr Vicki Wolfe
February 2021
Vicki is a Mum to 3 boys – 7-yr old twins, and a 2-yr old. She is also an independent Child & Educational Psychologist, and a Twins Trust seminar volunteer.
All members of Twins Trust gain free access to the industry-leading Health e-Hub app and online portal–a library of wellbeing resources to help people overcome life's mental, physical and financial wellbeing challenges.
Through the Health Assured, you will have access to:
Wellbeing resources, webinars and guides on a range of topics, including:
Resilience at Work
Nutrition
Stress Management
Being Creative
Open Communication