Paul Pether and Rob Hallott, both dads of multiples, have teamed up to establish a new peer support service for fathers. Find out more below....
Tell us about yourselves...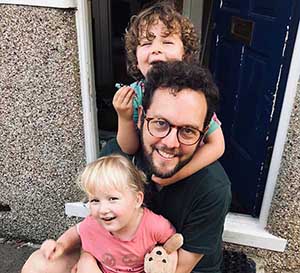 Paul:
Hi, I'm Paul Pether and I live in London with my partner Sophie and three-year-olds Rex and Marnie. I work for a charity in my day job, and when not being press-ganged into building Lego or pretending to be a member of the Paw Patrol, I find a bit of time to watch and play football. Being a twin dad is such a big part of my identity now, and I'm keen to support other dads as they navigate their own paths.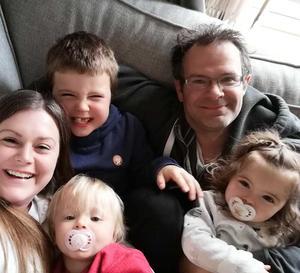 Rob:
Hi, I'm Rob Hallott and I live in Burton upon Trent with my wife Rachel, our seven-year-old son Charlie, and Oscar and Lily, who turn three shortly. My day job is at a law firm, and I'm also setting up a coaching practice. My areas of interest have become dinosaurs, cars, giraffes, unicorns and Cocomelon.
…And what's the scheme all about?
Paul: It's just a confidential space where dads of multiples can share the practical or emotional challenges they're experiencing. Wherever you are in the journey of fatherhood, we'll provide a non-judgemental listening ear. We can offer some of our own experiences and signpost you to other resources which might help you. When I look back over the last few years with Rex and Marnie, there've been so many different phases with their own distinct challenges. Particularly during the pregnancy and early months, you're preoccupied by your partner's wellbeing too. Men are often taught to be "strong" at all times, which can leave them feeling quietly overwhelmed or isolated.
Rob: Being a parent of twins can be seriously tough. Alongside having an incredible wife, the thing that has most helped me navigate the rollercoaster has been the ability to talk to other twin parents. I've been incredibly fortunate to walk alongside another twin dad through the whole experience. At times it's just been to share the craziness, at times it's felt like a lifeline.
It's important for dads to have an opportunity to connect with other dads and feel supported, so that things don't build up.
How does it work?
Paul: If you'd like to talk to another dad who gets what it's like to parent multiples, we can set up a supportive chat in whatever way works best for you. Opening up about how you feel can be daunting – but I can say I've really felt the
benefits, as both a counsellor and counselling client in the past.
Rob: Like Paul, I've benefitted from both sides of the conversation. I haven't seen much generally that's focused on support for dads, so I wondered if others would benefit from something similar. The scheme is therefore simply about providing supportive space for dads to chat through whatever they want.
Any feedback so far?
Rob: Yes – and it's been extremely positive. It's really brave of people to speak up, and dads have said they've found it helpful just to say out loud what's going on with them. It's helped normalise some of what they are experiencing, provided some practical tips and been reassuring to know people can survive periods that feel overwhelming. We're looking forward to getting more feedback, which will help shape and develop the scheme.