A recent review of our five year strategy refocused our work and set an ambitious objective to save 100s of twin babies' lives.
Key to achieving this is expansion of our research programme and education of medical professionals to promote best clinical practice for multiple pregnancy and birth in maternity units.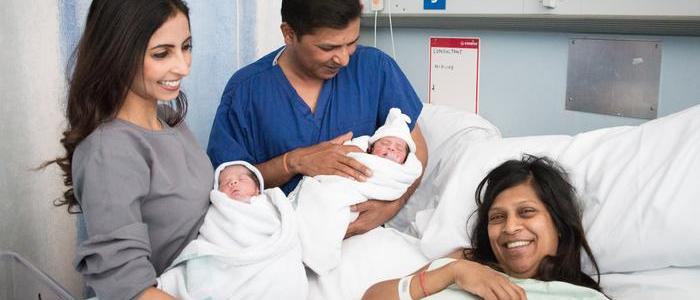 The stark figures that twin pregnancies are over 1.5 x more likely to end in stillbirth, and 3 x more likely to end with neonatal death compared with singletons, fuels our ambition to succeed.
The best way to secure our goal is to establish the Twins Trust Centre for Clinical Research and Excellence at a best-practice hospital.
Our research against set criteria scored St George's Hospital in London, the highest. We have already worked closely with them (particularly Professor Asma Khalil) producing the first accurate Twin Pregnancy Growth Charts and the first national Twin to Twin Transfusion Syndrome (TTTS) Registry.
Working with Professor Khalil and her team at this NHS hospital will encompass and formalise our existing working partnership with St George's and bring additional benefits in terms of research, peer support and awareness raising, as well as matched funding.
We hope you share our ambition to save twin babies' lives. Please help us raise funds by donating online.

Your support will be of huge significance. It will help to:
Improve treatments and outcomes for complicated twin pregnancies
Improve knowledge of twin pregnancies amongst health professionals and clinical teams
Identify best clinical practice for the different types of twin pregnancies
Provide better care to women pregnant with multiples