One year on...
We're so excited to be celebrating the first year of a brilliant partnership with St George's University Hospitals NHS Foundation Trust.
The partnership led to the opening of the world-first Twins Trust Centre of Research and Clinical Excellence in 2020.
We partnered with St George's, which is based in Tooting, South London, to help all maternity units in the UK improve care and save babies' lives.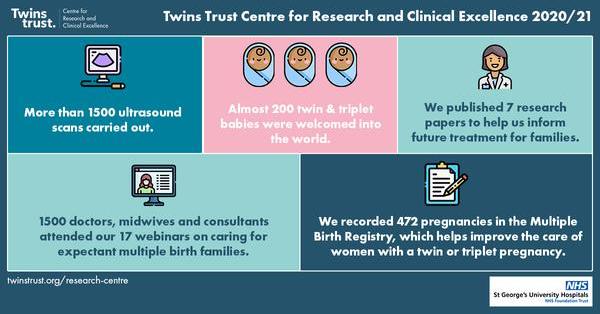 And the centre, based at the Fetal Medicine Unit, is demonstrating that it is one of the best providers of care for multiple pregnancies and offers support to other units.
More than1,500 healthcare professionals in the UK and around the world have benefitted from the expertise of Professor Asma Khalil, Consultant Obstetrician clinical lead at the Centre.
Twins Trust is working with Professor Khalil and her team to carry out vital research, and promote good care in line with the NICE multiple birth guidance.
The Fetal Medicine Unit at St George's has exemplary standards of care for families expecting twins, triplets or more and recent research has shown a 70% reduction in stillbirth after introducing the NICE guidance.
And in spite of the tumultuous year, Professor Khalil and her team have published seven pieces of research and two opinion papers on twins, triplets and more.
The research aims for a better understanding of what families face so medics can improve future treatment and care.
Twins Trust adapted its plans for in-person study days and instead created a series of 17 online webinars with Professor Khalil. These were a huge success attracting more than 1,500 healthcare professionals, exceeding the original target of 120.
The centre holds the world's only multiple pregnancy registry, which gathers information from hospitals to help build a picture of multiple birth complications and their treatments to better analyse the link between management and outcomes.
Twins Trust hopes more hospitals will sign up to this.
Professor Khalil, said: "As one of the UK's leading fetal medicine units, we are committed to making the UK one of the best and safest places for women expecting twins, triplets or more.
"Despite the challenging year we have all faced, the centre has already achieved so much, with seven research papers published and a series of successful educational webinars held for healthcare professionals across the UK.
"We are looking forward to the next twelve months and progressing our vital research to improve the outcomes of multiple pregnancies and save babies' lives."