Many of our bereaved families have used the purple butterfly card in their surviving twin's or triplet's incubators or cots and have found it incredibly helpful. Butterflies have now become a special part of their lives.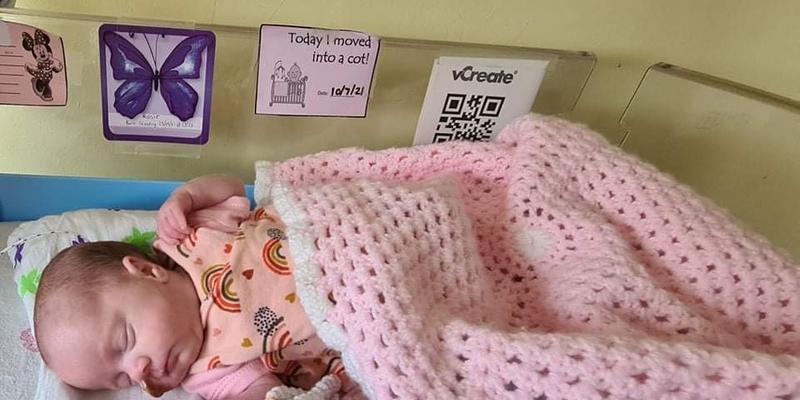 'We have come to love butterflies and the meaning they hold for us.'
'We have one in our daughter's cot at the moment. One of the student nurses asked me about it as she didn't know what it signified. Every new doctor we meet introduces Poppy as a twin whose twin has passed. Having Rosie's name on the butterfly has been helpful because the nurses use her name rather than just "Poppy's twin"! When Poppy was first moved into the cot I moved Rosie's butterfly to the side and Poppy loves to look at it.' - Hannay Gray. Read Hannah's story.
'After losing Rayna there was a purple butterfly on my maternity notes. It meant a lot for the medical team to mention her name whilst caring for the surviving twin Hakeem. Although it was short-lived, that 1 week when he was still alive it meant so much to me that his sisters' name was mentioned during ward rounds and consultations.' - Sharon Sarwar. Read Sharon's story.
We had one for James which was on Rudy's incubator/ cot. We have also kept it in his memory box. It meant a lot to see James' name there every day.
- Jess Stuckey
Skye High Foundation
The Skye High Foundation was set up by Millie Cann to help families dealing with the loss of a baby who was part of a multiple birth, after the loss of their daughter Skye. They created the purple butterfly cot card, which is to be placed in an incubator or cot in memory of their sibling. The cot card is used in conjunction with a poster that is placed around maternity and neonatal units, which explains the meaning of the purple butterfly. The cot card allows families the opportunity to make others around them aware of the journey they are going through.
The butterfly project – supporting parents who have lost a baby from a twin, triplet or higher order pregnancy.
Newcastle Neonatal Research Team spoke to parents who have suffered the loss of a baby, either before or after birth. Their focus was on multiple pregnancies where one baby died and at least one baby survived. They also spoke to health care professionals such as midwives, neonatal nurses and doctors.
If you are a health professional and would like to join the butterfly project, please contact them and they will send you a free teaching pack of PowerPoint slides, handouts and guidelines you can use on your intranet. They can send you Butterfly cot cards and parent letters. They are focusing on staff education and practice but if you are a parent and would like to find out more please contact www.neonatalbutterflyproject.org
As part of the butterfly project they provide parents with details about the project. Parents are asked if they would like the staff to place a butterfly symbol next to the cot, or inside the incubator. Parents are asked if they would like to write the name of the twin or triplet who died on the butterfly sticker. A sticker can also be placed on the outside of the medical notes of the surviving twin, or the medical notes of the mother if the loss occurred before birth.
Parents report that sometimes they feel that their loss is underestimated because of a tendency of others to try to be positive and focus on the surviving twin. Typically, they welcome being given 'permission' to grieve for their loss, while celebrating their surviving baby. One parent described it as 'just brilliant' because the nurse always talked about 'them' and 'she used his name as well'.
Health Professionals can access a free webinar recording with the Newcastle team via the free Twins Trust CPD section https://twinstrust.org/healthcare-professionals.html
Society is fascinated by twins and how similar or different they are but very few people ever stop to think what life must be like for families where one baby or more from a multiple pregnancy does not survive. We conducted over 10 years research with families and staff to better understand the complex challenges of baby loss in multiple pregnancies. We developed a film-based website with parents who tell their stories http://www.neonatalbutterflyproject.org and the Butterfly cot card concept that has been widely adopted throughout the UK, and globally. We recently created a 4 hour free online learning course accredited by the RCN, RCPCH and iHV aimed at health professionals that has attracted over 400 learners from more than 70 countries around the world in the first 2 months alone. Leaners can interact and discuss the topics with peers and course moderates. https://www.futurelearn.com/courses/loss-of-a-baby-from-a-multiple-pregnancy-the-butterfly-project/