Our Online Support Group Meetings are hosted by Sharon, our Senior Bereavement Support Officer, and one or two befrienders. There are usually 8 - 12 people there. We usually begin with intros where we share a little of our experience and then move to a relaxed, informal discussion. Some topics include funerals, returning to work, siblings and survivors, the next pregnancy, anniversaries, thoughts around grief, memory making or fundraising. You can speak as much or as little as you want to and it's up to you how much you wish to share. Everything we talk about is confidential and just between ourselves. It's normal to feel apprehensive - please don't worry about crying; it's helpful to be with people who understood how we're feeling.
We hold meetings for: TFMR (Termination for medical reason); dads; double and triple loss from a twin or triplet pregnancy; surviving twin or triplets; siblings; survivor and rainbow children can be present; our general / all types of multiples group.
To register for any of the groups above contact Sharon at [email protected]
Upcoming groups:
We are taking a break over the summer and our online group with recommence in September.
September 2022
6th September Sibling, Survivor & Rainbow 1.15pm-2.45pm
13th September TFMR 1.15-2.45
19th September Double/ Triple loss 6.30pm-8pm and Dads 8pm-9.30pm
26th September General loss- all losses 7pm-8.30pm
October 2022
11th October Sibling, Survivor & Rainbow 1.15pm-2.45pm
18th October TFMR 7pm-8.30pm
24th October Surviving twin or triplet/s 6.30pm-8pm and Dads 8pm-9.30pm
31st October General loss- all losses 7pm-8.30pm
November 2022
8th November Sibling, Survivor & Rainbow 1.15pm-2.45pm
15th November TFMR 9.30am-11am
21th November Double/ Triple loss 6.30pm-8pm and Dads 8pm-9.30pm
28th November General loss- all losses 7pm-8.30pm
December 2022
6th December Sibling, Survivor & Rainbow 1.15pm-2.45pm
13th December TFMR 7pm-8.30pm
19th December General- all losses online group 6.30pm-8pm and Dads 8pm-9.30pm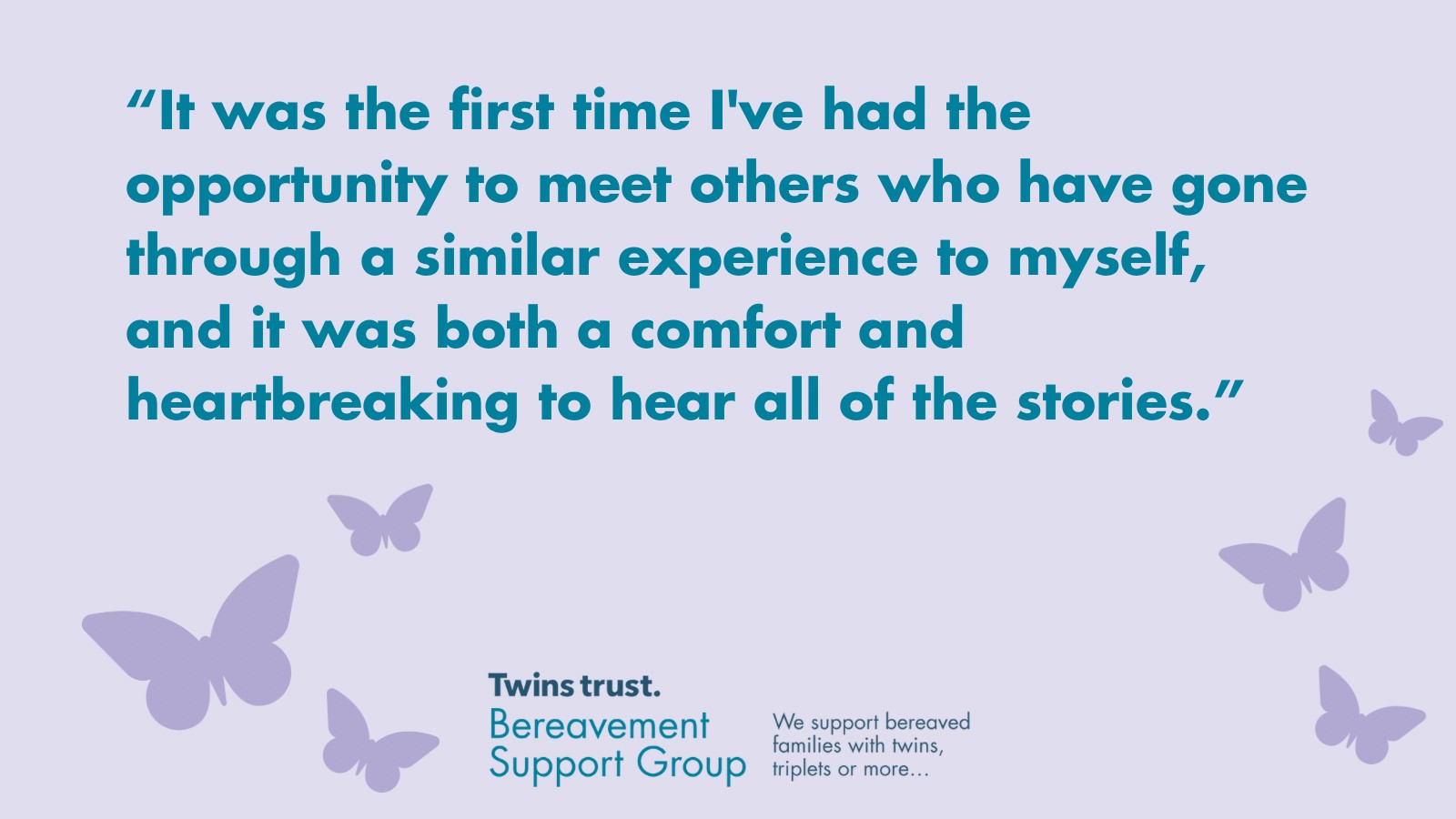 It's a very safe space to talk, where everyone understands exactly how I feel