The 2021 London Marathon will see 50,000 virtual runners take part, alongside the 50,000 runners pounding the capital's streets.
Virtual participants can now only enter with a charity place.
You can complete the 26.2 miles in a location of your choice AND you have 24 hours to complete the distance. You could tackle it in sections, perhaps with some different running companions throughout the day, or go all out for a personal best time. It's up to you! It's a great way to achieve your coveted marathon medal without the pressures of a big race day.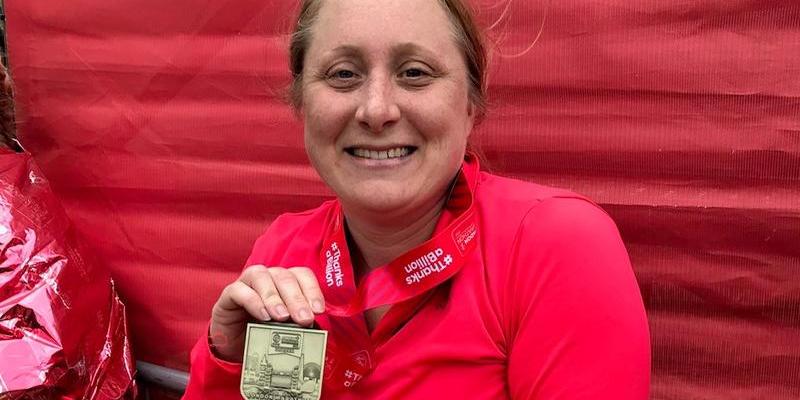 Where?
You choose your own route.
When?
Sunday 3 October – you must complete your marathon between 00.01 and 23.59.
(Please ensure you pause your race tracking device when you take a break – do not stop it – as this will be your proof of completion.)
Entry fees and sponsorship target
You can now only enter the virtual London Marathon on a charity place.
A £30 deposit will secure one of our 10 charity virtual places. You will receive your London Marathon medal and finisher's t-shirt as part of your race entry.
We encourage you to raise as much as you can; raise £150+ and take your place of our virtual wall of fundraising heroes.
How to register
Register by 5pm on Thursday 23 September 2021.
Please contact Lucie Wigley in our Fundraising Team on [email protected] to register and to receive your Twins Trust branded event t-shirt.
Please note we do not have any charity places for the 'real life' London Marathon this year but we would love to have you on our team if you have been lucky enough to secure your ballot place. Please let [email protected] know you are joining #TeamTwinsTrust to receive the same support as our virtual runners.
Set up your fundraising page
Online fundraising is a simple and easy way to share your fundraising goals and ask people to support your efforts.
You can create a fundraising page on these sites: JustGiving, Virgin Money Giving or Easy Fundraising.
Further information
For more information, please visit: www.virginmoneylondonmarathon.com/the-event/virtual-marathon