Memory making
If you have experienced the death of one or more of your babies recently, you may find some of these suggestions helpful.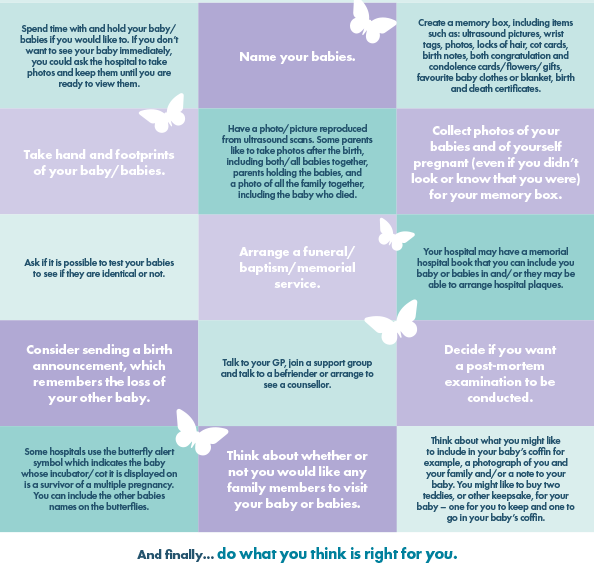 Arranging the funeral or memorial
For many parents, funerals and memorials are their chance to say goodbye in whatever way they think most fitting. You may want to celebrate their life, however short it was, or to talk about your feelings of loss. By choosing poems, a reading or prayer or by playing a favourite piece of music, you can acknowledge how important they were to you.
For some families, religious or cultural beliefs will require you to organise a funeral very quickly, sometimes within the first 24 hours. If this is the case for you, please mention it to the hospital and they can help arrange the necessary paperwork urgently. While many people choose a traditional funeral, you may prefer a less formal or non-religious arrangement. It is important you choose what is right for you and your family.
Funerals and Ceremonies
Once you have registered the death, you will need to choose a funeral director and start thinking about the type of funeral arrangements you want. When a baby dies in hospital, the midwife or nurse can help explain what your options are, what the hospital offers, and make the arrangements for you.
If parents accept the hospital's offer, they should be able to attend, bring flowers, and participate in different ways (depending partly on whether it is an individual funeral or one for several babies). If you prefer to arrange the funeral yourself, it can be helpful to break down the arrangements into a list of small jobs to order your thoughts, as well as helping you see where others could help. Parents on low incomes who want to organise their own funeral may be able to get a Funeral Expenses Grant.
Some people like to recognise the specialness of the relationship between their multiples in their choices, for example how they dress their children, their choice of poems or readings. If there is a surviving child, you might like to place a cuddly toy in the coffin or piece of jewellery on their body and keep an identical one for their twin or triplet. If your babies died during pregnancy, it might be possible to arrange a memorial and burial service. Some hospitals or clinics allow you to arrange a burial within the grounds. It is also possible to arrange a cremation at the hospital and some local crematoriums offer this service, although they have no legal obligation to do so. Please note that you may not have any ashes remaining from the cremation of a very young baby.
You can also have a burial at home, but you will need to talk to your local authority about this. If you decide to bury your babies at home, some parents place their babies in soft material inside a box and bury it in the garden. Some parents prefer to use a waterproof box in case they wish to take it with them if they move at a later date. Others plant the bodies by a young tree in their garden and the growth of the tree gives comfort to them in the months and years to come. Even if you don't have anything left of your babies to bury, you can still remember them by planting a tree or flowering shrub in your own garden, a memorial garden, or a park. Some parents prefer to use a tub, so they can take it with them if they move.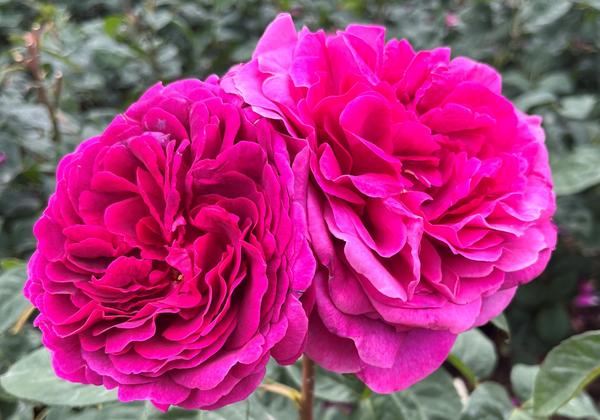 Plan a Memorial Ceremony
You may also wish to mark your loss with a memorial ceremony, however small or informal. It may simply be a case of lighting a candle and saying a few words with your family. Other parents like to make a symbolic gesture, such as releasing balloons, butterflies or birds. It is your family's opportunity to say your last goodbye, so it is important you do whatever feels appropriate to you, your customs, culture, and beliefs.

Birth and Death Announcements
Finding the right words to express your loss in formal announcements can be a heart-breaking task, but also a healing activity that helps your loved ones share in your joy and sorrow. Many bereaved parents say it is important that people know how proud they are to be a mother to these babies.
Wording on Headstones
You may also want to acknowledge the fact they were twins, triplets or more on the headstone. If one baby survives, some parents like to acknowledge the surviving baby on the headstone, for example by writing 'Twin to ...'. If you have other children, they can also be included on the headstone, for example, 'Beloved younger sister to Thomas and twin to Mark'. If both babies died, parents often recognise their special relationship in the headstone wording, such as 'Together Forever'. One family arranged for a headstone in the shape of Noah's ark with the inscription 'They came two by two'.
Saying Goodbye
Funerals and memorials provide parents with the opportunity to say goodbye, but there are also other ways you can remember your child. For example, some parents like to write a letter to their babies or child. You can tell them how much you loved them, what they meant to you, and all the things you wish you could have told them. It does not have to be a final goodbye letter if this is too painful. Writing down your feelings either in a daily diary or as poetry is another therapeutic way to express your grief.
Twins Trust Bereavement Support Booklet
You will find lots of further helpful information around memory making and funeral arrangements in our Twins Trust Bereavement Support Booklet.
This booklet helps people understand they are not alone – there is help and support.