21 December 2021
Omar Sarwar - This is a dedication to my beloved Rayna and Hakeem
Even though our time together was brief in the physical form
My love shines through eternally and can never be torn
You inspire me on a level that no one ever understood
Your energy motivates me to contribute to the greater good
Your profound existence so pure with perfect clarity
Acting as a platform for positivity and charity I pray one day we are reunited in paradise's viscinity
Until then just know Daddy loves you from here to infinity

In August 2020 we fell pregnant and were ecstatic about being first-time parents. At 6 weeks, I had a big bleed and thought I was miscarrying but an early ultrasound showed everything was okay and we were expecting twins, we even got to see their flickering heartbeats! We were so elated and felt like the luckiest people in the world! After 16 weeks of battling hyperemesis, I finally got to enjoy my first pregnancy. I had an inkling it was a boy and a girl and we imagined our first twin cuddles, bath times, first walks, first school day - they would have been best buddies and will always have a friend in each other. We were looking forward to being twin parents!
At 20 weeks, we discovered that my cervix was 2cm dilated and twin 1's membrane was bulging. I remember so vividly it was 3 days before Christmas and had a gender reveal planned on Christmas Day, I didn't expect to stay in the hospital for long. Little did I know that I will be in for 5 weeks and would come home without my babies. The days in the hospital were long and lonely, especially during a Covid-19 lockdown. I felt isolated and my mental health wasn't doing very well especially being surrounded by other mothers who were waiting for their elective c-section, hearing moms in labour and newborn cries. I didn't know if our twins would make it to viability.
Our beautiful twins were born a week apart; Rayna at 22+1 weeks through a spontaneous pre-term labour, she lived for 36 minutes but did not utter a cry or open her eyes. She was the most perfect angel, she looked like her daddy and had my eyes and eyebrows. She left the world silently too and had the most peaceful look on her face. Hakeem, her brother didn't follow until a week later at 23 weeks; due to complications from maternal sepsis, he was stillborn and was delivered via emergency C-section as I was critically ill. Our little boy looked so perfect, calm and looked like he wasn't in any pain, he had his daddy's eyebrows but looked more like his mummy. If he survived, he would have been a mischievous little boy.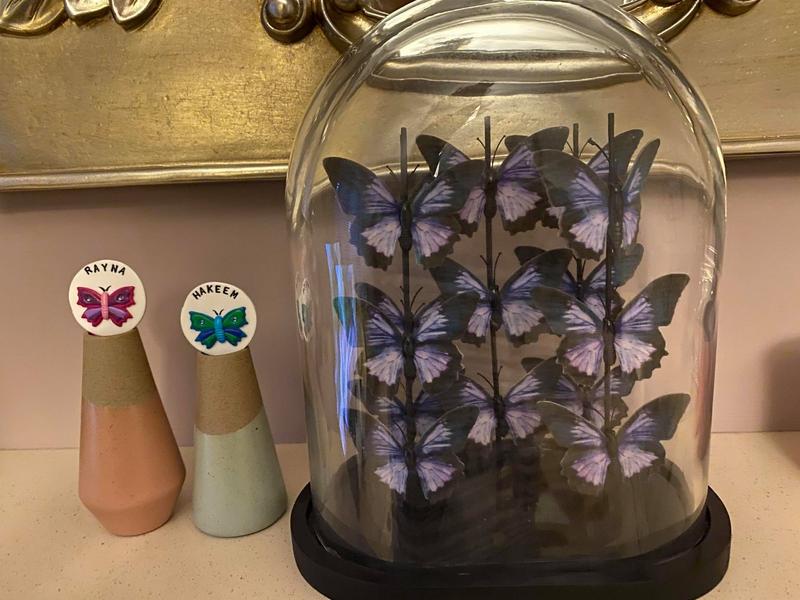 Apart from losing our precious twins; the week in between their unexpected arrival was the most difficult thing we've been through. I wanted to grieve for Rayna's loss but had to stay strong for Hakeem, it was such a dark place to be. Somehow I felt like Hakeem knew his sister was missing and he just wanted to be with her, I can't fault him it's such a natural bond between twins. Albeit losing my precious babies, I find comfort knowing that they're together creating mischief somewhere and I can rest easy knowing they're not alone - after all they were meant to be together.
There's proof that Rayna existed with a death certificate but we didn't get one for Hakeem as he was stillborn. This aches me so much and I think it will take some time to reach acceptance. Initial days, weeks after their loss were very painful, I didn't know if I'll ever get through this dark tunnel and see the light again and the guilt of failing my children.
I got in touch with Twins Trust and was paired with a Befriender; I found so much support within the private Bereavement Facebook group as well. I don't think anything could have prepared me for this heartache, it's the worse thing I've ever been through - the guilt of not being able to protect your babies and this unrequited maternal love. I saught comfort with other parents going through a similar situation and knew I wasn't alone.
Months after, I've learnt to love my babies in my own way; I visit them weekly and find comfort in their spinning windmills - I feel their presence in little things like the appearance of white feathers, butterflies and rainbows. I know they're watching over me and will be my guardian angels until we're reunited and oh on that beautiful day my arms and heart will finally be full again.