Join 3,000 participants on Ultra Challenge's Thames Path Challenge and enjoy a 100k, 50k or 25k run, jog or walk along the capital's famous riverbank.
Suitable for all levels of fitness, you can take this flat route at your own pace past the historic scenery. Take part solo or cover the miles with a team.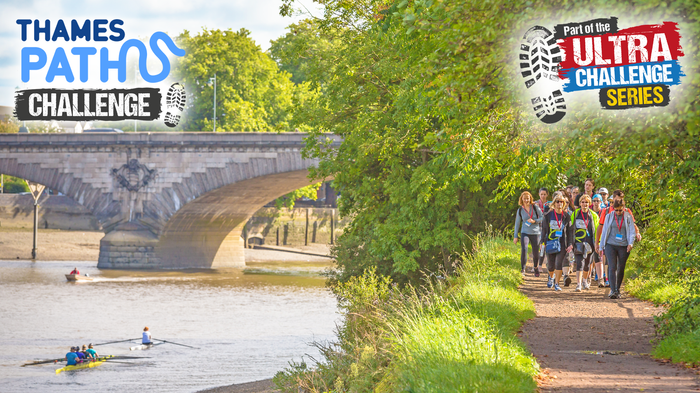 Where?
The full 100K distance starts at Bishops Park in Fulham, near Putney Bridge. You will travel through Richmond, past beautiful Hampton Court to reach Runnymede – the site of the Magna Carta – at 50k, before continuing on through Windsor to a riverside finish at Henley.
The start and finish locations are a walkable distance from Putney Bridge and Henley train stations respectively.
The 50k and 25k events take place along the main Putney-to-Henley route.
When?
Saturday 10 to Sunday 11 September 2022.
You can complete the 100k distance in one go on Saturday 10 September 2022, with start times from 6.45-9am. Alternatively you can spread the 100k across the weekend with a camping stop in Runnymede on the Saturday night – hot showers included!
The 50k and 25k routes can be tackled on either day with different start points – please see the Ultra Challenge website for more details: ultrachallenge.com/thames-path-challenge/challenge-options.
Entry fees and sponsorship target
Registration starts from £10, depending on distance and funding option.
Your entry fee includes snacks, drinks, energy drinks and main meals at covered rest stops during the event. You'll also receive your medal, finisher's t-shirt and a glass of fizz at the finish line.
Please visit the Ultra Challenge website for entry fees on all distances and funding options: ultrachallenge.com/thames-path-challenge/sign-up-now
There is a range of sponsorship targets depending on the distance you choose and the percentage of the event costs you choose to cover yourself.
Raise £150+ and take your place of our virtual wall of fundraising heroes.
How to register
Click here to register: ultrachallenge.com/thames-path-challenge/sign-up-now
Please contact Lucie Wigley in our Fundraising Team on [email protected] to let us know you are taking part and to receive your Twins Trust branded event t-shirt.
Set up your fundraising page
Online fundraising is a simple and easy way to share your fundraising goals and ask people to support your effort.
Visit our support page to find out more about how you can set up your fundraising page.
More information
For more information, please visit: ultrachallenge.com/thames-path-challenge