Our fantastic volunteers play a huge role in making Twins Trust the charity it is today.
Our volunteering roles are varied and rewarding. They can also be as little or as much as you like and should be able to fit around your lifestyle.
If you've been thinking about volunteering, we can support you with training. Volunteering offers a great way to prepare yourself for returning to the workplace.
Have a look at our roles and please get in touch if you'd like to find out more.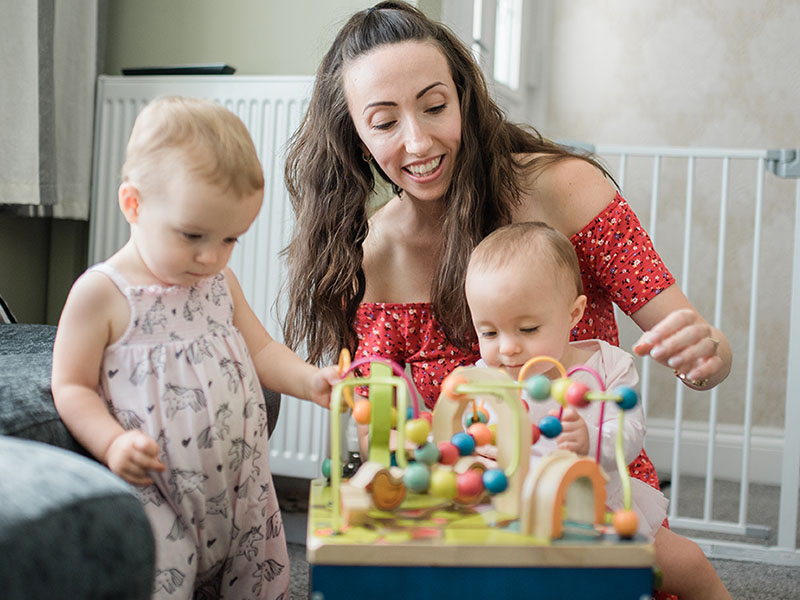 Twinline listeners
Parents of twins, triplets or more who would be available for up to six hours a month to take calls from fellow parents seeking support. You receive the calls at your own home via a freephone number. Listeners would be expected to attend one day's training plus two webinars.
For an informal chat about becoming a listener, please contact the Support Team on 01252 332344 weekdays between 10am and 4pm, or email our Twinline co-ordinator.
Walk and Talk volunteers in Northern Ireland
If you live in Northern Ireland, and would like to volunteer to attend our Walk and Talk sessions, this would involve greeting attendees, initiating conversations as needed and ensuring that everyone is included in conversation and peer support. If you ca spare a few hours a month we'd love to hear from you.
Professional volunteers for education
We are looking for qualified teachers to support multiple birth families by responding to referrals from Twins Trust concerning primary and secondary school issues.
Professional volunteers for family therapy
We are looking for qualified family therapists, psychotherapists and psychologists to volunteer and help with cases involving family's of multiples. For example: parents encountering difficulties after the birth of their twins, triplets or more; psychological issues between multiples and parents; adolescence; adult twins who have lost their twin; and couples where one is a twin.
Trusts and Grants Volunteer
We are looking for a volunteer to support our Trusts and Grants applications. This is an important source of income for Twins Trust – can you help us to make it even more effective?
We need help to research new funding opportunities, and to ensure we know as much as possible about the funding bodies we are already working with, to maximise our potential income.
Strong research skills and the ability to record information concisely are key. Ideally, you will have experience of making applications for funding so that you understand the process; this could be in any sector and for any reason. A lot of the research can be done online, making this a flexible opportunity that can be in part done out-of-hours. You would also need to spend some agreed time during a working day (Mon-Weds) in contact with our Trusts and Grants Fundraising Officer, and potentially speaking with trusts as part of your research.
If you are able to give us a few hours each week, either remotely or in person at our Aldershot HQ, we'd love to hear from you. To discuss this opportunity please contact us.
Fundraisers
We are always looking for people to help raise funds for us so we can continue providing our families with the information and support they need to enable them to thrive. Help us to raise awareness, invest in research and campaign for the best possible outcomes for our families.
You can help by taking on a challenge to raise funds, or why not nominate us as your charity of the year at your workplace? Take a chance on the Twins Trust Lottery, or simply make a straight forward single donation or monthly donation, and don't forget to Gift Aid it!

How to Apply
If you're interested in any*of the roles above, please complete this simple application form and we'll be in touch.
*NB: We request an email for Trustee role appliation instead of completition of the application form.
We are very much committed to widening the diversity of our volunteers to reflect a broad and inclusive range of backgrounds and skills. We would particularly welcome applicants who reflect the diverse communities that we are proud to support.