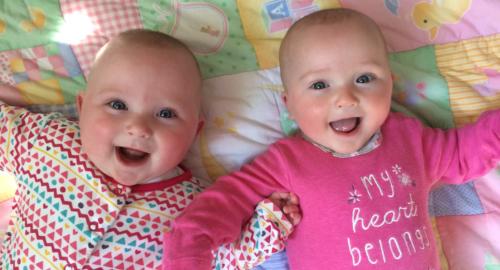 Save money by joining Twins Trust today
Our exclusive member discounts offer you incredible choice with more than 100 ways to save on shopping, days out, entertainment, holidays and much more. View our A-Z of discounters to see the full list of discounts available.
From just £3.80 a month, your Twins Trust membership really can pay for itself, or why not gift a membership to a loved one.
"I would really recommend the discounts to other families. It's a great perk of supporting a wonderful cause…"
Are you located outside the UK? Please click here for our overseas membership options.
Choose the right membership for you
Save with direct debit
Members who pay by direct debit save us administration and card fees. We would like to pass on this saving to our members.
Monthly - Standard
£ 3.80
Monthly - Concessionary
£ 1.70
Concessionary membership is subsidised by the charity, so please consider whether you can afford the full rate membership before joining.
Purchase an annual membership
If you'd prefer to pay a one-off annual fee, we have standard, silver and gold memberships available.
Annual (1 Year) - Standard
£48.00
Silver (3 Years) - Standard
£130.00
New SILVER members receive the book 'OMG it's Twins' by Alison Perry and 'Twins on Board' car stickers ('Parent like a Triplet' by Kari Ertresvaag and 'Triplets on Board' car stickers are also available – please let us know).
Gold (5 years) - Standard
£199.00
GOLD members receive silver benefits, plus... three Twins Trust booklets: The Healthy Multiple Pregnancy Guide, Preparing for Parenthood & Breastfeeding Multiples.