You're here:
Parenting: Under 1s
Parenting: Under 1s
Have you recently welcomed twins, triplets or more? Or are you about to and have questions of what to expect in the first year? Our under 1's group is a great place to start.

We understand that parenting is a broad subject so please check out our other groups as well, inclduing our preschool group.
We would like to ask everyone to please read our guidelines and policy before posting. By posting, you are agreeing to follow these guidelines and allowing our moderators to remove any posts that do not.

If you need to contact our forum moderator, please email [email protected]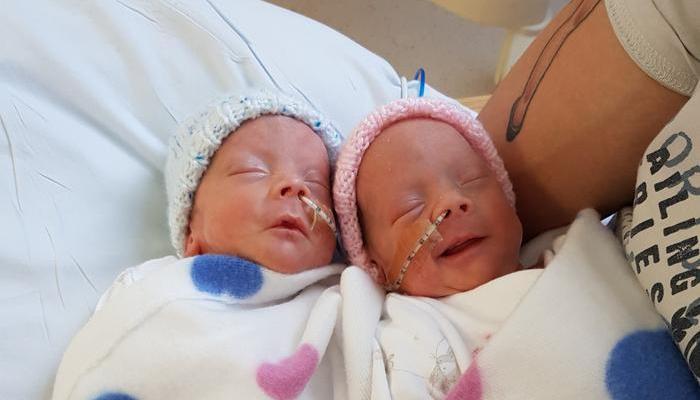 Discussions
Toilet training 2 year old with teething 6 month old twins?
Feel really overwheed since my 6 month old twins have been both teething
so more unsettled and fussy with bottles/ solids and not napping/
sleeping at night well in the 6 months sleep regression. New years eve
my 2 year old started showing more interest in the toilet asking for it
and refusing to wear nappies and has done wees and poos on the toilet.
Winter time in a lockdown when the twins are unsettled is not when I'd
plan to do it 🙈 but she's decided we're starting it. She's needing
prompting every half hour to go to the toilet and when wearing leggings
especially we have accidents a few times a day as she sometimes holds it
a few hours regardless of prompting 🤷‍♀️. With the pandemic the only
help we can have is our bubbles but my mum has fibromyalgia so can be
unpredictable if she's able to come and help and my husbands parents
used to have my 2 year old 2 days a week but since she's stopped daytime
napping she's been getting more tired/demanding late afternoon so
they've been wanting to bring her back earlier now and my husband does
12 hour shifts so the even routines on me really. Now she's toilet
training aswell think the in laws are abit overwhelmed by it and are
none committal about help said they'd see how it goes with 1 day this
week and if it doesn't go well they'll come for a few hours out of my
husbands 12 hour shift next week 🙈. My mums having a flare up of her
condition so can't come to help me as planned at the weekend when my
husbands working. I feel extremely overwhelmed and not sure it's
possible on my own to be prompting a toddler to go to the toilet every
30 mins, changing her after accidents, plus going on demand (she needs
me to take her) whilst having teething unsettled/ not great at napping 6
month old twins solids and milk every 3 hours. I'm drained with feeling
like I need to pursuade people to help me constantly the in laws say I'm
complaining if I say how hard it is and lately I've been running on
adrenaline so put a face on it and have to keep going because there's no
other option and you need to be ridiculously upbeat to keep my toddler
motivated for toilet training and if I allowed myself to stop and be
overwhelmed id never get going again. Because they see me running around
juggling everything they just say I'm doing a good job keeping everyone
from crying at once and when my husband tries booking them in to help
when he's working they say its not helping my confidence having people
there to help when he's working and they don't think it's needed. I've
just had enough of having to beg people for help and I can't cope on my
own don't know what to do. Spoke to the doctor before he said phone
counselling last lockdown, offered antidepressants and actually
contacted my health visitor because he wasn't happy I was told there's
no support for parents of multiples in my area only for my health
visitor to tell me this again, and from what I've googled if you don't
have/ want Facebook there's no help 🤷‍♀️. I've refused antidepressants
because I've had them before and felt numb/ tired on them and if
lockdown isn't going to be rough enough without not feeling anything to
even enjoy the small glimpses of nice moments and I really don't think I
could function with feeling anymore tired with all 3 on my own, so there
not an option can't afford to have side effect with any off days. I've
just realised this is a ridiculously long post 🤣 so sorry about that
just at my wits end with what to do and so fed up with no one
understanding what it's like. Has anyone else managed toilet training a
toddler with twin babies aswell?
Replies (8)