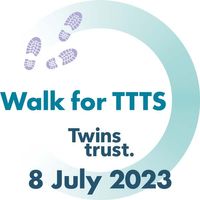 Walk for TTTS
8 July 2023
Join #TeamTwinsTrust for #WalkforTTTS.

Twin to Twins Transfusion Syndrome (TTTS) has devastating impact on families with twins, triplets and more, and we need your help to fund life-saving research. Research is being carried out by the Twins Trust Centre for Research and Clinical Excellence at St Georges Hospital.
About the event
Our annual Walk for TTTS will be both virtual and live in 2023.
The Walk for TTTS has become our flagship event, this year we are taking it step further and linking our Walk for TTTS to the Twins, Triplets and More Week – more exciting announcements about this to come!
We would love to see as many as possible at our live event in Virginia Water in Surrey, but would also love to see small Walk for TTTS events springing up around the country. It's a great way to have fun, bring people together, maybe get the kids involved as well and encourage teamwork. And all the while you are helping raising much needed funds for medical research into TTTS.
In the previous Walk for TTTS events, you raised an astonishing amount of money towards medical research into Twins-to-Twin Transfusion Syndrome (TTTS) and other conditions affecting multiple babies. We want to smash that figure in 2023, please join us and help save babies' lives!'
Where?
Join us at Virginia Water - adding to this successful, much-loved virtual event we will also be running a live event! For our live event, we will meet you at The Pavillion Cafe at beautiful Virginia Water in Surrey, for a scenic walk around the lake. It's the perfect place to meet up with family and friends to join our walk, and perhaps enjoy a picnic and the gorgeous Crown Estate-owned grounds afterwards.
Virtually, support us from your area - you can take part wherever you are, we want you as part of our virtual #TeamTwinsTrust. You can decide your own route and way to take part – walking is optional, you could scoot, hop, run, jog, skip, anything goes!
Workplace team - could become a workplace hero, and encourage your work colleagues to help you put a workplace team together, and support each other as you choose a scenic walking route to walk, run or even skip?
Entry fees and sponsorship target
Small entry fee of £5 applies to each lead adult
We'll send t-shirts for all adults taking place and caps for the children
We want to encourage you to please raise as much money as you can to help us fund even more much needed research into TTTS. Any sponsorship you can raise would be wonderful, but we suggest you aim to raise at least £200+.
Phoebe, Walk for TTTS participant
"I have been hugely supported by Twins Trust and my local multiples group, since I found out I was pregnant with twins 4 years ago. As a doctor, and a twin mum, I recognise the value of research into TTTS, and having had friends whose pregnancies were affected by it, I simply had to take part in this challenge!"
Our headline sponsor
Twins Trust wants to give a big THANK YOU to our lead sponsor of the Walk for TTTS - Irwin Mitchell.
Representatives from Irwin Mitchell will be joining us on the day, and we can't wait to see them.