TAPS, Identical Twins and Covid: A Story of Surviving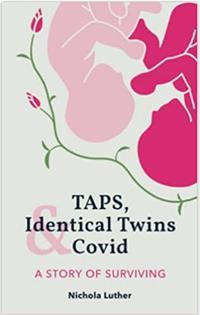 Nichola and Pete's twins were diagnosed with TAPS (Twin Anemia and Polycythemia Sequence) at 25 weeks. Without fetal laser surgery, both babies would have been lost, and there was still an unknown chance of survival.
Throw in a world pandemic, living on an island, helicopters and heart-breaking separation ... this is a story filled with real-life drama. But ultimately, this is a story of hope, survival, and how (even faced with your worst imagined fears,) you can come out fighting.
Nichola has shared her family's journey through fetal medicine and neonatal units, overcoming illness, separation, and obstacles beyond belief. A percentage of proceeds from every book sold are donated to Twins Trust, and are reinvested back into the lifesaving research that ultimately helped save the lives of Asher, Leo and Niki.
Each book costs £8.99