We've been around for more than 40 years and are proud to be the largest charity of its kind in the world.
Twins Trust provides families with the information and support they need to enable them to thrive. We raise awareness, invest in research and campaign for the best possible outcomes for our families.
Keep an eye out for opportunities below to work with our small, friendly team in Aldershot, Hampshire, or become a Twins Trust volunteer anywhere in the UK.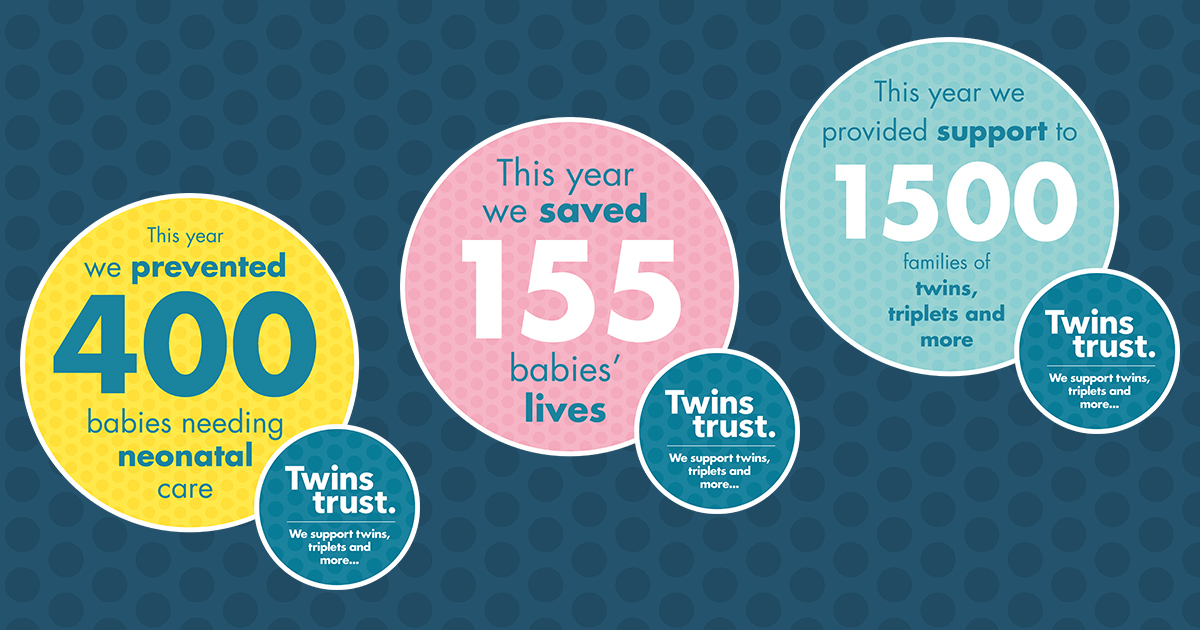 Trusts and Grants Volunteer
We are looking for a volunteer to support our Trusts and Grants applications. This is an important source of income for Twins Trust – can you help us to make it even more effective?
We need help to research new funding opportunities, and to ensure we know as much as possible about the funding bodies we are already working with, to maximise our potential income.
Strong research skills and the ability to record information concisely are key. Ideally, you will have experience of making applications for funding so that you understand the process; this could be in any sector and for any reason.
A lot of the research can be done online, making this a flexible opportunity that can be in part done out-of-hours. You would also need to spend some agreed time during a working day (Mon-Weds) in contact with our Trusts and Grants Fundraising Officer, and potentially speaking with trusts as part of your research.
If you are able to give us a few hours each week, either remotely or in person at our Aldershot HQ, we'd love to hear from you.
To discuss this opportunity please contact Karen Cattermoul, Trusts and Grants Fundraising Officer, on [email protected].
Senior Digital Officer
Salary Grade: £27,800 FTE
Responsible to: Digital Marketing Manager
Hours: 37 hours per week
Location: Aldershot, Hampshire (open to flexible working options)
Annual leave: 28 days p.a. plus statutory bank holidays (Pro rata)
About Twins Trust
Formally known as Tamba (Twins and Multiple Births Association), Twins Trust has been in existence for over 40 years and is the largest charity of its kind in the world. We provide support, help and advice to 10,000s of families with twins, triplets or more each year.

Our mission at Twins Trust is to provide our families with the information and support they need to enable the
m to thrive. We raise awareness, invest in research and campaign for the best possible outcomes for our families.

Our families face some unique challenges and we want someone who can successfully help tell their story.
Job description
1. Responsible to: Digital Marketing Manager
2. Purpose - To develop and manage elements of the digital content for our communications channels, with a particular focus on social media.
3. Responsibilities include:
Take ownership of our social media accounts and develop our social media strategy, supporting the overall communications and digital strategies. Manage the strategy implementation and ongoing actions across social media.
Create a strategy for advertising on social media and manage the budget for this.
Support the Digital Marketing Manager with the management and maintenance of the website.
Regularly analyse web traffic and social media engagement and report back to the team.
Create new content to ensure representation from all areas of the charity. Write, produce, source, edit and upload new content where required.
Provide expertise and advice on external digital/social innovation and best practice, making recommendations about how Twins Trust can make the most of social media opportunities to better support our audiences.
Manage our digital photography and video content, ensuring it is fit for purpose across all channels.
Using Google Analytics & Search Console to track & analyse and make recommendations on how to improve our site and marketing of our information.
Regularly develop analysis and reporting to inform future planning.
Undertake any other duties at the discretion of the Digital Marketing Manager or Head of Communications.
Person Specification
Experience, Knowledge & Understanding
Writing for different audiences/contexts
Managing social media channels, particularly Facebook, Instagram and Twitter with a knowledge of paid advertising
Ability to edit/develop content for websites
Previous experience of working in a digital communications role with a focus on social media
Awareness of the issues facing multiple birth families
Skills
Excellent verbal communication skills
Excellent writer
Strong website editing skills
Strong administration skills
Able to use initiative and solve problems independently
Able to work under pressure and manage multiple deadlines
Strong IT skills including using Microsoft Office, working with images and creating online content (Photoshop knowledge beneficial)
Other
Confident and enthusiastic
Flexible, team player
Committed to working in communications
A commitment to diversity and equality
A clear interest in families with twins, triplets or more
Senior Digital Officer Person Specification Criteria (Key: Essential = E, Desirable = D)
Qualifications
Experience
Previous role in a Digital Communications E
Previous role in a non-profit D
Experience of managing social media channels & paid advertising E
Website Content Management System inputting D
Previous knowledge of Google Analytics and other digital tools E
Skills
Excellent planning, organisational and project management skills (including attention to detail) E
Excellent written communication skills E
Excellent interpersonal skills, including oral communication, presentation and networking E
Computer literacy, MS Office Suite E
Knowledge of Adobe Creative Suite including Photoshop D
Ability to manage cross departmental development projects E
Ability to demonstrate a high level of commitment as well as problem solving skills E
Ability to maintain high levels of confidentiality as appropriate E
Knowledge
Social Media E
Medical, family, finances, PR and media D
Website Content Management System inputting D
Research techniques D
Knowledge of multiple births D
Personal Qualities
Goal-orientated E
Enjoys working within a team E
Ability to prioritise a demanding workload in a pressurised environment and meet strict deadlines E
Friendly and professional approach towards colleagues E
Interest in families and children E
Please click here to apply for this role via CharityJob
Applicants for this role must be eligible to work legally in the United Kingdom. If you do not have the necessary permissions to do so, unfortunately we are unable to consider your application.