13 April 2023
From secondary school to adulthood, twins John and Paul Greener tell their story of growing up together.
Starting secondary school at 11-years-old was a daunting experience. We were separated into different classes and tutor groups as it was deemed best for us to learn and develop separately.
However, we were assigned to the same school 'House', which meant we competed together in various school sports competitions including rugby, athletics and cross-country. Being identical twins, our peers showed great interest in us. Subsequently, we made friends quickly and got used to the increased attention and age-old twin-related questions that followed. By 15 we shared the same friendship group, largely due to our similar personalities and interests in sport.
Over time, we developed very similar academic interests and eventually chose to study the same GCSE subjects. This decision benefitted us greatly, as we worked together to overcome challenging topics and competed against each other. This pattern continued into our A-levels where we had similar success. Rugby was also a big passion of ours throughout school; we both played as centres and thrived because we trained together, motivated each other, and shared a drive to win. We quickly learnt that being twins was a major advantage for us, socially, academically, and beyond.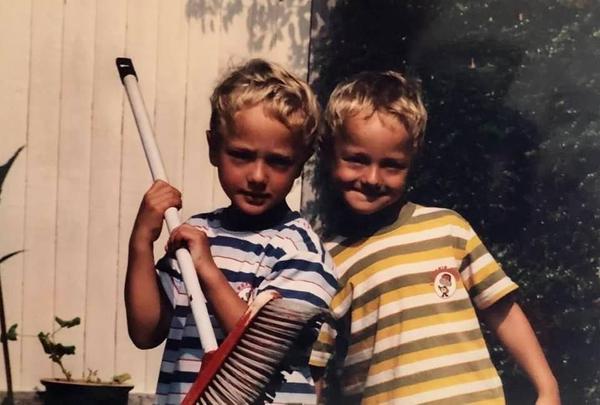 Before long we were deciding on universities; typically, a time when most twins separate. However, having established an ambition to eventually start our own business, we decided to study Business Management at Leeds University at 18. During this period, it was very important for us to maintain an aspect of individuality. We think this is something that all twins will experience at different stages, for us it was important to be perceived as individuals and have our own identities. We managed this by choosing separate accommodations in our first year and making a conscious effort to make friends and live independently. Nonetheless, throughout university we still studied together, socialised with the same group of friends, and played rugby in the same team. During this period, we struck a balance between working together andmaintaining a level of individuality and independence.
Being twins was a major advantage for us
At 22, we left university with an undergraduate and master's degree in the same subjects, both interested in starting a career in management consulting. Fast forward to September 2021, we started applying to graduate programmes. We intended to take different paths and join different companies. By November 2021, one of us received an offer to one of our top choices at Capgemini Invent. Weeks later, the second one received an offer for the same position. At first, our responses to this were mixed, a combination of happiness to have both received a dream job offer but also a sense of – are we really about to work at the same company? However, the opportunity was too good for either of us to pass up on.
Since joining Capgemini Invent, we have been treated and respected as individuals. Working on separate projects, enabling us to continuously develop our skills and work towards our career goals independently. However, we still get the opportunity to help each other if needed and frequently socialise with our cohort together. Ultimately, we are both thrilled to be working our dream job together whilst still maintaining our independence.
As twins who have taken very similar paths in life there has always been a general expectation from ourselves and other people that we should perform similarly in everything we do. In the past, when one of us excelled in one area and the other appeared to be falling behind we have found this difficult to cope with and manage.
We were fortunate in life to have been born as twins and enjoy progressing in life together
For example, during our A-levels we studied the same subjects, had the same teachers, and sat in the same classes meaning it was anticipated we would both achieve similar results. In the build-up to our exams, one of us started to outperform the other in our psychology practice exams. This meant that the other twin was subject to mocking from classmates and felt more pressure to improve; subsequently revising longer hours trying to bump-up their grades to achieve parity with the other twin. Whilst this pressure provided us with a healthy competition that enabled us to benchmark our abilities against one and other, it could become quite overwhelming and stressful at times. Looking back, this additional stress could have been easily avoided if we accepted that we both had different strengths and that it was normal for twins to perform differently despite our identical nature.
Today, we embrace our different strengths and understand that we both have varied skillsets which helps us to maintain our individuality. We were fortunate in life to have been born as twins and enjoy progressing in life together. This has largely worked in our favour and continues to benefit us.
Being an identical twin is a very unique experience. It is not something that many people can relate to or understand so it is important to take all perspectives with a pinch of salt. We are confident that in future we will take different paths but, in the meantime, it is both enjoyable and beneficial for us to share the same experiences.
John and Paul Greener