1 June 2018
Is there a way to keep teens and mum happy on holiday? Jo Kessel explored one of Holland's better kept secrets to find out.
It's 8am when our overnight ferry arrives in the Hook of Holland and we drive off. By 9.30am not only have we checked into our hotel, but we're inside Efteling theme park being deafened by the squeals and brouhaha of rollercoasters. My twins Nathalie and Gabriel, 15, and Hannah, 13, grin as they drag me towards the park's longest and oldest wooden coaster.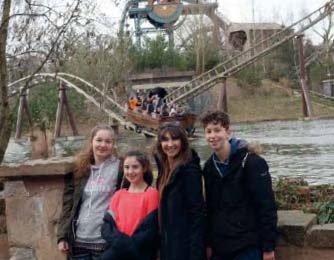 Teenagers are a tricky bunch when it comes to holidays - at least mine are. So when a friend suggested Efteling as a Dutch alternative to Disney, as being much cheaper and better in her opinion, we were sold.
Clank. The safety bar to our carriage is locked and we slowly accelerate. Cue the inevitable twisting and turning inside-out and upside-down. The tummy-lurching's worth it just to hear the children's glee.
It's quickly clear that the park is for all ages (and tolerance levels) and we alternate an adrenaline fix for the brood with something gentler for Mum's stomach. After the hard-core dive coaster we enjoy low-key raft-ride - named Piranha. Loop-the-loop Python is followed by fantastical underground boat-ride Fata Morgana, and so on. Some attractions require queueing; others we hop onto, like swing boats and carousels.
Efteling is beautifully landscaped, with a lake bordered by windmills as its centrepiece – this is Holland after all – and themed areas from Aztecs to a Turkish Medina to a fairytale forest set around it. It's too big to do in a day, but thankfully we're overnighting.
Park entry and a farmer's breakfast is included in the price, and the next morning we fuel up on home-baked breads, fried eggs and fresh juices before heading back to the park, a ten-minute walk away.
Day two sees a role reversal. I enjoy the Flying Dutchman (a scary water-coaster) so much that I want to do it again. And the kids love rides aimed at under 10s. Gabriel says of Droomvlucht (a journey through a starry world of animatronic fairies), "that was cool". Nathalie deems a boat-ride around a duck-filled lake "really lovely". And Hannah is so enchanted by the Fairytale Forest, whose trail leads past Sleeping Beauty's castle, Hansel and Gretel's cottage and Rapunzel locked in her tower, that she doesn't want to leave. It's magical!
Efteling oozes with nice touches, from talking rubbish bins to musical toadstools to an I-phone app which allows us to monitor wait times. Food's superior (and cheaper) than usual theme park fare. Organic tomato soup at Polles Keuken pancake house is a meal in itself (4.75 euros) and fried-potato kebab snack Eigenheymer (2.75 euros) tastes almost healthy.
There's a spectacular water fountain display before closing-time and travelling by overnight ferry means we can spend all day at the park, watch that show, then load the car for the hour-long journey back to the port. Over dinner on the boat we decide that Efteling is Holland's best-kept secret. It's refreshingly un-Disney, uncommercial and designed with genuine love and attention to detail, offering high-octane thrills alongside wholesome family fun. And whilst my teens prefer the white-knuckle rides, my favourite was the Fairytale Forest - it made me wish I was a kid all over again.