18 April 2018
A researcher has been looking into the "together or apart at school" question, investigating the impact both separate and same classrooms has on multiples.
Katy Goymour looked at the issue for her thesis and appealed to Twins Trust Facebook followers for help. Many of our families agreed to help with the research, by sharing their own experiences.
The aim was to look at the impact of together or apart on the social adjustment of both identical and non-identical same-sex twins at school entry.
In the thesis abstract, Katy explains: "No study has yet explored the associations between classroom placement, the quality of the twin relationship and the development of their social competence at school.
"This paper therefore examines the impact of classroom placement on twins' social adjustment to school, taking into account the quality of relationship prior to school entry."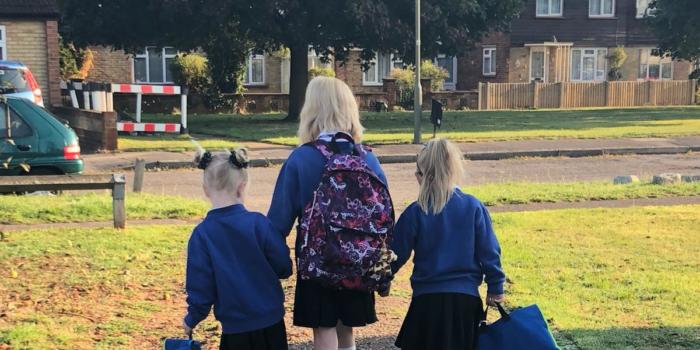 The 140-page document looked at studies and papers already prepared on the subject, as well as evidence collected from participating families who answered an appeal on Twins Trust's Facebook page. Parents were also asked to provide details of the school their children were attending, so headteachers and teachers could also provide feedback. Information was also requested from the twins themselves.
The thesis explored a number of questions, including "is zygosity [identical or non-identical] an important factor that influences classroom placement decisions?" and "does the quality of twin relationship differ between identical and non-identical twins prior to school?"
In conclusion, the study found that there isn't a one-size-fits-all answer when it comes to the question of schooling twins either together or apart, and that each family and school need to work together to find the best approach.
As her thesis states, Katy said: "There is an overwhelming sense that a one-size-fits-all approach to educating twins is inappropriate. There are a range of complex factors for parents and school staff to consider when deciding what is in the best interests of the twins, and it is vital that twins are not considered a homogenous group. It will therefore be important that schools work collaboratively with families of twins, and indeed other multiples, and consult with parents and twins about the precise nature of their relationship dyad….it is paramount that parents are consulted and that twins are given a voice in the decision-making process."
Twins Trust has lots of information on this issue on our "Together or Apart?" page. Here you will also find information about how to challenge a school's decision, should you disagree with their policy. You can also download a letter which you can show to your school.