3 September 2019
Identical twins Lauren and Kate Edge, aged 22, left home for good this summer after graduating from different universities and starting new jobs in London.
The sisters made a conscious decision not to live together in the capital, and three years before had chosen not to go to the same university.
'The first few months of university were a big, big change, but also very exciting' said Kate.
'I enjoyed living with people my own age, being independent and meeting lots of new people who knew nothing about me and didn't know I had a twin, as up until that point most people at school and college knew me as "one of the twins".
'Lauren and I decided to attend different universities as we had been at the same school and college and that resulted in us sharing many friends, which meant we didn't have a lot of time to develop as an individual as we were together so often'.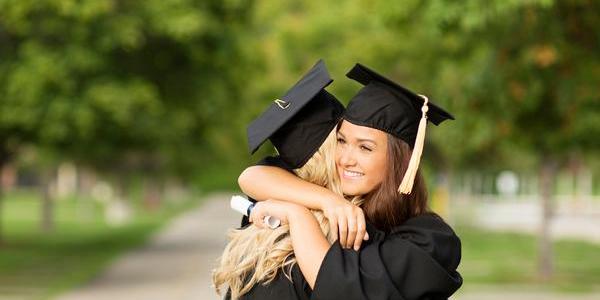 'Being at university separately meant we both developed our own interests and made our own friends, more so than ever before. We felt it would be best to continue this way when we both moved to London, but we did want to live close enough to be able to see each other often'.
Kate studied software development for visual effects and gaming at Bournemouth University, and now works for King Games. She lives in east London with her boyfriend and it takes her around an hour to get to Lauren's flat, which is on the other side of London. The girls still meet up once a week, usually somewhere in central London.
Lauren, who studied computer science at Norwich, said 'It was a bit daunting at first being away from home and my family. But I soon found I quite liked the independence and I knew it was an important step I had to take.
When choosing universities, we both had different requirements and ideas of where we wanted to go and knew it was more important that we follow those rather than making sure we were a close distance to each other.
Later 'we both decided on London, partially to do with job prospects rather than being in the same place. And we always knew we would not want to live together as we had enjoyed our independence at university'.
The sisters remain close, having similar interests. Lauren told us 'It means we get along well and rarely disagree because we pretty much enjoy the same things. The only negative is that it can become a bit competitive, even if you don't mean for it to be there is always a bit of comparing between us because we are so similar, it makes it more noticeable if we don't do or achieve the same things. Especially with things like exam results. Now I'm an adult though it doesn't really bother me, and I am happy for our differences'.
Their Mum, Jane, told us 'When they were younger it was often the case that their friendship groups overlapped so it wasn't until they went to university that they were seen as individuals.
They missed each other when they left home for university and would co-ordinate home visits together, but with Skype we could all speak regularly, which made things easier.
At the moment, for me anyway, it still feels like they've just gone back to university, but in reality they have properly left home!'.
I'm very proud and also very relieved that they both have found jobs that they like and have turned into lovely, happy individual young women.